Press
Enos Takes Part in Hollywood Reporter Emmy Roundtable; LA Times Chats with Kinnaman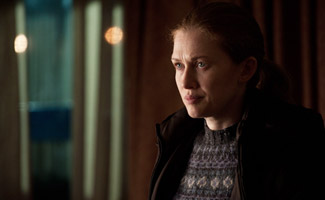 This week, Mireille Enos is featured in The Hollywood Reporter's Emmy roundtable for actresses in drama series, and the Los Angeles Times chats with Joel Kinnaman. Plus, Kinnaman speaks with The Daily Beast and Billy Campbell chats with GoldDerby. Read on for more:
• The Killing's Mireille Enos (along with Mad Men's January Jones) participates in The Hollywood Reporter's Emmy roundtable of drama series actresses and reveals that "having to kiss Brad Pitt [in the film World War Z] was very, very terrifying."
• The Los Angeles Times profiles Joel Kinnaman, describing him as "every inch the leading man, with expressive hazel eyes and an easy manner."
• The Daily Beast calls Joel Kinnaman "the man who portrays the most compelling character" on The Killing.
• In a video chat with GoldDerby, Billy Campbell says he knew he'd return for Season 2 but "just didn't know if I would last very long."
• Deadline reports that Mireille Enos has been cast in Devil's Knot along with Reese Witherspoon and Colin Firth.
• TV Equals tells viewers why it loves The Killing. One reason: "Joel Kinnaman and Mireille Enos have somehow gotten even better."
• For recaps and reviews of Season 2 Episode 10, "72 Hours," check out CarterMatt.com, CNN, Examiner.com, Gather, Paste, ScreenCrush, Television Without Pity and TV Fanatic.
Read More