Uncategorized
Q&A – Liam James (Jack Linden)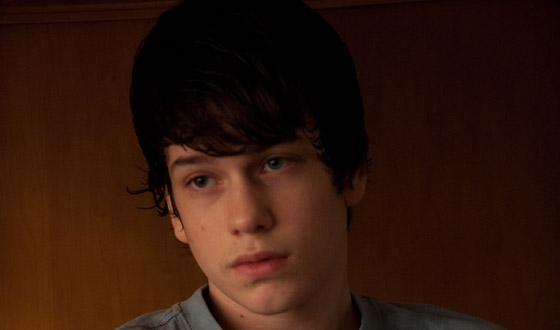 Liam James plays Sarah Linden's son, Jack, on AMC's The Killing. In an exclusive interview with AMCtv.com, he talks about landing the role and his relationships with his fellow cast members.
Q: How did you get cast as Jack?
A: I went out for the audition and they liked it. They thought it was pretty funny what I was doing, and they were laughing at it. There was this line about me being a moody teenager, so I was being really sarcastic and rude and they thought it was hilarious.
Q: Are there any perks to being one of the youngest actors on set?
A: Everybody is nice to me, but also everybody treats me kind of like an adult: They treat me equally, and I like it that way. They all know I have to go home a little bit earlier, so they're always bugging me that I get to go home before them.
Q: Much of Jack's screen time is with his mother, Sarah Linden. How have you and Mireille Enos worked to create that mother-son vibe?
A: I would say the biggest contribution to becoming friends with Mireille would be my mom, because they're friends. Mireille is an easy person to get along with, and she and my mom get along really well, so it makes it easier to get along with both of them.
VIDEO: Inside Episode 207 The Killing: Keylela
Q: You and Joel Kinnaman have a good vibe on screen. What's your relationship like with him in real life?
A: I like to think I'm really good friends with Joel. He's always super cool.
Q: Is your relationship in any way similar to Holder and Jack's?
A: Yeah, he kind of treats me like that.
Q: Jack and Holder have a pretty distinct handshake. Did you two come up with that together?
A: It came from the writers, but he put a twist on it. We practiced it. He was trying to teach it to me because I wasn't really getting it, and he was showing me videos like, "Look, it's like this, not like that." It took me a long time to get it down — I just wasn't getting the hang of it for some reason!

Q: Do you ever watch The Killing with your friends?
A: When it first aired, I had friends over and we watched it. They love the show. We still sometimes get together and watch it on Sunday nights.
Q: What's their reaction to Jack?
A: They think he sounds like me. They always think he's being a brat.
Q: What have been some of your favorite moments on set?
A: One moment that I really enjoyed was the scene where me and Joel were wrestling — I'm on the wrestling team, and I got to show him some moves. We got to wrestle pretty intensely. I also really enjoyed the episode that Veena [Sud] directed — I really liked working with her.
Q: What were the most difficult scenes this season?
A: There were some pretty emotional scenes — those are definitely more difficult than an average scene. Like the scenes where Jack's mom is just getting too hectic for him to handle, and he just freaks out on her and tells her to leave him alone and that he doesn't want anything to do with her.
Q: How do you pass the time on set when you're not filming?
A: When I'm in my trailer I like to watch movies, but when I'm on set I just talk with everybody. All the cast and crew are fun to talk to. I like to listen and hang out and sit.
Q: Do you have any mementos from the set?
A: I do have the seat back from my chair on set that says "Jack," but that's it.
Q: Are you similar to Jack in any way?

A: I always say that I never act on this show. I get to go to work and be myself!
Click here to read an interview from Season 2 with Mireille Enos, who plays Jack's mother, Sarah Linden.
Read More