Uncategorized
Q&A – Joel Kinnaman (Stephen Holder)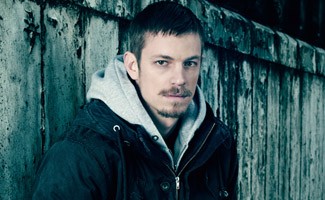 Actor Joel Kinnaman, who plays Seattle Police detective Stephen Holder on AMC's The Killing, talks about researching his character and why his sex scene in Season 2 Episode 3, "Numb," is the easiest one he's ever done.
Q: We get a deeper look at Holder's past this season. Did you research drug addiction to prepare for this role?
A: For the first season, I went to a bunch of Narcotics Anonymous and Alcoholics Anonymous meetings and I read a lot of books, and I also knew some people in my family who struggled with addiction.
Q: Do you think your portrayal of Holder helped you land the part of RoboCop?
A: I think for a lot of people that had seen me do Snabba Cash, after watching The Killing, I think they got a sense that I could do different kinds of characters. The Killing is a very popular show, especially among actors and directors, so of course that was a big part of it.
Q: In Season 2 Epsiode 3, "Numb," there's a crazy scene where Holder is pacing in the middle of traffic. How was that scene shot? Was it a difficult scene to pull off?
A: It was a very demanding scene to shoot because that was Holder really unraveling and breaking down. Plus it's cold up on the freeway, and the [Assistant Directors] were getting really nervous because I wasn't being too cautious about the cars that were going by. It was an emotionally taxing scene to do.
Q: Are car sex scenes like the one in "Numb" a perk or a hazard?
A: [Laughs]. For being a sex scene, it wasn't that demanding. They can be pretty awkward and sometimes a little embarrassing, especially if it's someone that doesn't have a big part in the movie or series who comes in for one or two days and then they have to be naked — it can be a little embarrassing. But this wasn't supposed to be sexy, it was actually supposed to be the opposite of that, and that made it easier. Out of all the sex scenes that I've done, it was the easiest to do.
VIDEO: Stephen Holder: Inside The Killing
Q: The Killing is a unique take on a mystery story. Do you have any favorite mysteries?
A: I always look for good stories and good characters, and if they're placed in a whodunit, then I'm interested. I'm not that caught up in just the mystery of it, I gravitate more towards character-driven stories and following what they're going through.
Q: Mireille Enos has said she's deliberately avoided watching the Danish version of the series. Have you seen Forbrydelsen?
A: Yeah, I saw the whole series while we were shooting the pilot. But I didn't have to worry about anything because I knew that my character was completely different from the Danish original. A lot of actors don't want to find themselves copying another person's performance, but I didn't have to worry about that.
Q: Billy Campbell was eating a breakfast burrito on set when we interviewed him, and Holder makes Jack a breakfast burrito scene in Episode 207, "Keylala." Is there some sort of breakfast burrito thing going on on set?
A: That's probably the best thing you could have, a great Mexican-American breakfast. But Holder, that's what he does. He starts trends and he influences people and nobody on the set was left unaffected — breakfast burritos are just one of those things.
Q: How would you react if you called the cops and someone like Holder showed up at your doorstep?
A: I'd be like, "What the hell is going on?" I think I'd feel like I was in pretty good hands, and I think I'd be a bit surprised and wondering if I was getting punked.
Q: There's a sweepstakes on AMCtv.com in which fans can guess who the killer is for a chance to win $10,000. Have there been any bets among members of the cast on who did it?
A: There was a bunch of betting going on, but I sort of stayed out of that game. You know for Holder, gambling is also an addiction, so I can't get caught up in that whole thing.
Q: You don't want to become too much like your character?
A: That's sensitive stuff! It's gotta be method.
Click here to read an interview from Season 2 with Mireille Enos, who plays Stephen Holder's partner, Sarah Linden.
Read More