Press
Joel Kinnaman in Vanity Fair; LA Times Magazine Spotlights Mireille Enos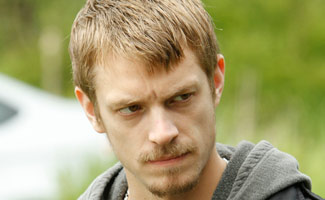 This week, Joel Kinnaman is featured in a Vanity Fair photo spread and the Los Angeles Times Magazine spotlights Mireille Enos. Plus, TV Guide learns ten things from the Season 2 premiere. Read on for more:
• Joel Kinnaman is featured in a Vanity Fair photo spread that celebrates television. (No Link.)
• Los Angeles Times Magazine profiles Mireille Enos, who "keeps getting cast as women capable of matching wits with murderers." (No Link.)
• TV Guide lists 10 things we learned from the Season 2 premiere, including "Seattle is full of dirty cops and politicians."
• Deadline reports that Patty Jenkins, who directed the series pilot, will helm the Season 2 finale.
• The Chicago Tribune says Season 2 will "deliver another intricate, secret-filled season."
• The Washington Post critic is a fan: "My own enjoyment of The Killing begins and ends with the gloom so brilliantly conveyed by its pace and performances."
• Mireille Enos talks to New York Magazine about Holder's relationship to Linden: "heartbreaking because the trust was so hard-gained." Enos tells the New York Daily News that her role is "liberating because it gives you permission to be… someone who doesn't care if you like them."
• Mireille Enos shares with Collider.com: "Every new piece of information is part of the actual puzzle." The Orlando Sentinel thinks Mireille Enos is "extraordinary."
• The San Francisco Chronicle praises the show for "the superb writing and attention to character detail" while the Arkansas Democrat Gazette believes "The Killing is one of the best dramas on television." (No Link.)
• Joel Kinnaman tells HitFix that Season 1, Episode 11, "Missing," was his favorite to play. Kinnaman also speaks with TVLine, Assignment X and the Chicago Sun-Times.
• Kinnaman also talks to TheDaily.com about Holder's accent: "I wanted him to feel like a working-class kid who grew up in a diverse community." (No Link.)
• Billy Campbell chats with Collider.com about his cast mates on The Killing: "It's a particularly brilliant cast, so I've been trying to… up my game." Campbell tells USA Today how he plays his part without knowing who the killer is: "You have to play who the character is in the moment rather than who you think the character might be in the end."
• TV Equals interviews Jamie Anne Allman, who says viewers will see in Season 2 "how Terry deals with her own heartbreak." Allman also speaks with About.com. Meanwhile, Self describes Allman's favorite healthy breakfast.
• TVLine speaks to Veena Sud and members of the cast at the Season 2 premiere.
• Mashable says the new Rosie Larsen interactive case file is a chance for fans of the series to actually participate.
• Catch a glimpse of Joel Kinnaman in the trailer (courtesy of The Hollywood Reporter) for the film, Lola Versus.
• For recaps and reviews of the Season 2 premiere, check out Blogcritics, BuzzFocus, California Literary Review, CNN, Crave Online, Entertainment Weekly, E! Online, Gather (Episode 1 and Episode 2), The Hollywood Reporter, New York Magazine, PopMatters, Poptimal, TV Fanatic and Zap2it (recap and review).
Read More