Press
NY Daily News Names The Killing One of TV's Top Things; Mireille Enos Talks to Marie Claire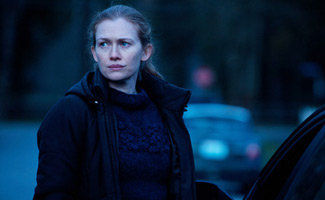 This week, the New York Daily News names The Killing one of the top things on TV this week, and Mireille Enos reveals some of her favorite things to Marie Claire. Plus, interviews with Billy Campbell (Darren Richmond), Jamie Anne Allman (Aunt Terry), and Richard Harmon (Jasper Ames). Read on for more:
• The New York Daily News names The Killing one of the top 10 things on TV, calling it a "dark and intense murder mystery."
• Mireille Enos talks to Marie Claire about some of her favorite things, which include New York City's Metropolitan Museum of Art, the city of Paris, and Leo Tolstoy's Anna Karenina. (No Link.)
• Enos also spoke to The New Zealand Herald ahead of The Killing's Season 2 debut there and compares filming the show to "making little movies every week."
• New Zealand's Stuff talks to Billy Campbell, who compares reading The Killing's script each week to "reading a novel but I'm inside the novel."
• Jamie Anne Allman speaks to Crave Online about Aunt Terry "feeling guilt about giving Rosie her ID… and that Rosie found out about Beau Soleil through Terry."
• Allman also speaks to The Insider about the end of Season 2, saying she "was very surprised and shocked by the finale."
• Business Insider takes a look at a day in the life of Jamie Anne Allman and her husband, True Blood's Marshall Allman.
• Richard Harmon tells Ology that he wanted to play Jasper because the "amount of depth that the writers of The Killing put into the characters is just unbelievable."
• The Killing moves up a notch to No. 7 in The Hollywood Reporter's weekly power rankings.
• Vancouver's Georgia Straight covers the Canadian Videogame Awards, which featured Eric Ladin doing "a pitch-perfect [Jack] Nicholson from A Few Good Men."
• For recaps and reviews of Season 2, Episode 5, "Ghosts of the Past," check out CNN, Gather, Paste, TV Fanatic and Zap2it.
Read More