Press
The Killing Nabs Four Saturn Award Nominations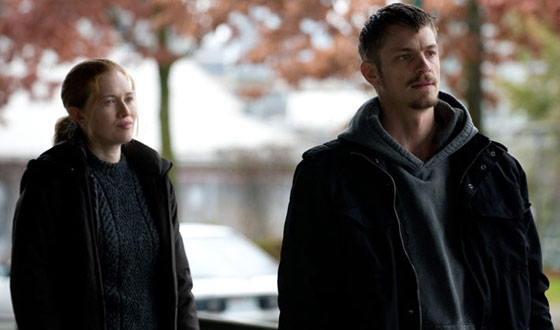 The Academy of Science Fiction, Fantasy & Horror have announced the nominees for this year's 38th Annual Saturn Awards, and The Killing was honored with nods in four categories. The series itself was nominated for Best Presentation on Television, while Mirelle Enos (Sarah Linden) was nominated for Best Actress on Television, Joel Kinnaman (Stephen Holder) for Best Supporting Actor on Television, and Michelle Forbes (Mitch Larsen) for Best Supporting Actress on Television.
The KIlling's nominations are among twelve garnered by AMC this year, with Breaking Bad receiving six nominations and The Walking Dead netting two.
Competing with The Killing for Best Presentation (10 Episodes or Less) will be Starz' Camelot and Torchwood, TNT's Falling Skies, The Science Channel's Trek Nation, HBO's Game of Thrones, and AMC's own The Walking Dead.
Competing with Enos for Best Actress will be Lena Headey of Game of Thrones, Jessica Lange of American Horror Story, Eve Myles of Torchwood: Miracle Day, Kyra Sedwick of The Closer, and Anna Torv of Fringe.
Competing with Kinnaman for Best Supporting Actor are Giancarlo Esposito and Aaron Paul of AMC's Breaking Bad, Kit Harington of Game of Thrones, John Noble of Fringe, Bill Pullman of Torchwood: Miracle Day, and Norman Reedus of AMC's The Walking Dead.
Competing with Forbes for Best Supporting Actress will be Torchwood: Miracle Day's Lauren Ambrose, Dexter's Jennifer Carpenter, American Horror Story's Frances Conroy, Once Upon a Time's Lana Parrilla, and Leverage's Beth Riesgraf.
The 38th annual Saturn Awards will take place on Wed., Jun. 20.
Read More