Press
TV Guide Visits The Killing Set; The New York Times Considers the Show's "Superviewers"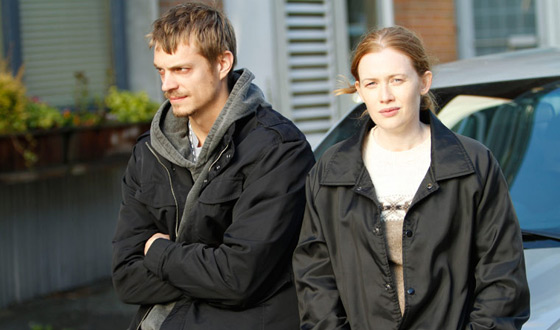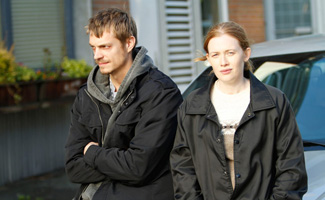 This week, TV Guide visits The Killing's Vancouver set, and The New York Times considers the show's "superviewers." Plus, the Season 1 DVD and Blu-Ray set receives favorable reviews from numerous publications. Read on for more:
• TV Guide visits The Killing's Vancouver set, and Mireille Enos — who says she doesn't know the murderer's identity — thinks it's "just so awful that anybody closely tied to the case could be the person who had done it." (No Link.)
• The New York Times examines the rise of the "superviewer" and how it affected perception of The Killing in general and the Season 1 finale in particular.
• The Wall Street Journal includes The Killing's Season 1 DVD on its list of new releases, calling the Patty Jenkins-directed pilot "highly cinematic." Meanwhile, TVPredictions.com reviews the DVD and compliments Mireille Enos: "She's a great discovery and one hopes she continues to get such meaty roles." The Kansas City Star's review says, "The first season had a nice, grim quality and a strong lead in Mireille Enos."
• TV Overmind is going to watch Season 2, "particularly to enjoy [Joel] Kinnaman's chemistry with [Mireille] Enos and the little wrinkle of Rosie's death possibly being part of a conspiracy."
• Mark your calendars. Collider.com reports that you can see Joel Kinnaman on the big screen in the Robocop remake on Aug. 9, 2013.
• The Hollywood Reporter reviews Fat Kid Rules the World, calling Billy Campbell's role "a more subtle and compelling character than this sort of story usually gets." Go to WorstPreviews.com to see a trailer of the movie, which just screened at the South by Southwest Film Festival.
• According to RopeofSilicon.com, David Fincher says that Joel Kinnaman's character is "much more prevalent in the next two stories" in the commentary for The Girl with the Dragon Tattoo.
• Shock Till You Drop reports that the release of World War Z, starring Brad Pitt and Mireille Enos, has been delayed until next year (from December 2012). The new release date is June 21, 2013, according to Bloody-Disgusting.
Read More