Interviews
Q&A – Libby Goldstein and Junie Lowry-Johnson (Casting Directors)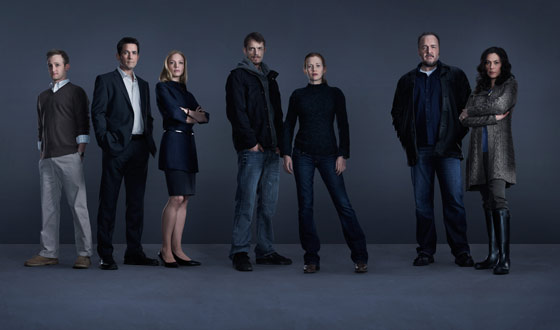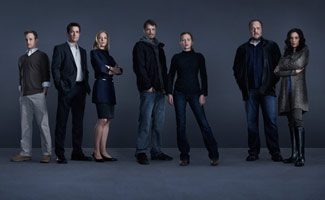 Libby Goldstein and Junie Lowry-Johnson are Casting Directors for AMC's The Killing. In this exclusive interview, they talk about their casting process including how they knew Mireille Enos would be a great Sarah Linden, and their confidence in Joel Kinnaman's star potential.
Q: What are the first steps when you get a script that you need to cast?
JLJ: We usually read the script and then make a huge list of people for the top three or four parts, which we use as a basis for the discussion of who we like. Then we'll have a concept call, which is a conversation with the director and our producers to see if we're all on the same page.
LG: Sometimes when we read a script, we have ideas right off the top of our heads for who we see for a part.
Q: What kind of info did you get from Veena Sud to prepare for casting this show?
JLJ: She is very articulate, thoughtful and thorough in her
writing, her descriptions, and her vision. We had multiple conversations
with her, and she was very clear along the way. When she would sit in
casting and see people, she would get excited by the different things
she saw. I think we had really good communication with her and with
Patty Jenkins, the director [of the Pilot], and they communicate
very well with each other. Everyone was very open with each other.
Q: What was it about Mireille Enos that made you know she'd make a good Sarah Linden?
JLJ: She's always somebody that you're excited to share with people. She's very unique and talented in terms of her craft.
LG: She's just a great actress with a great face. Looking at the Danish version, that girl wasn't your typical-looking actress, and Mireille's not either. She's just a great actress.
Q: Did the Danish version, Forbrydelsen, influence your casting for The Killing?
LG: We watched a few episodes of the Danish version. We didn't try to model our own cast after it, but after watching it, we had a sense that we were free to really just bring in great actors.
VIDEO: The Characters: Inside The Killing
Q: Which actor was the hardest to cast?
LG: Billy Campbell. In this show, Darren Richmond is not the lead, and somebody like Billy Campbell usually is a leading man. We felt fortunate to get that kind of guy.
JLJ: And Billy Campbell has a name. It's actually a testament to Billy that he wanted it. He loved the show and he also loved the lifestyle up in Vancouver. He really wanted to be in the show.
Q: Joel Kinnaman is originally from Sweden. Were you concerned he wouldn't be perceived as American enough?
LG: We knew he had star potential. He gave this unbelievable reading on tape in Sweden, and then we flew him out off that take. In the end, we knew he would be a star — and he made up his own funky accent.
JLJ: We had every confidence in the world that he would be a breakout success, and he has been.
Click here to read an interview with The Killing's location manager, Kent Spongale
Save
Read More