Uncategorized
Q&A – Kent Sponagle (Location Manager)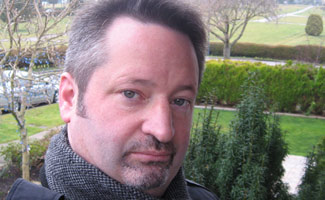 Kent Sponagle is the Location Manager for AMC's The Killing. In an exclusive interview with AMCtv.com, he talks about shooting in Vancouver, Tom Drexler's opulent apartment, and the most difficult location to find thus far.
Q: The Killing is primarily shot in Vancouver. What is it about the city that makes it a good stand-in for Seattle?
A: Geographically, it's right next to Seattle. It's right across the border and it's got a lot of the same West Coast sensibilities and the same West Coast feel. Vancouver stands in for a lot of different cities, so it was a good fit.
Q: Darren Richmond's office has quite the view. How did you find such a beautiful office?
A: That was in an upper convention space in a brand new convention center completed just before the Olympics. It has a beautiful view of the Vancouver harbor. It doesn't really match the actual Seattle City Hall view though, so for Season 1 we actually built the office on a stage and had a backdrop shot for downtown Seattle. For the pilot, we actually went to the convention center and got a great little glass office section with the view of the harbor.
Q: Is the Wapi Eagle Casino a real location?
A: That was a real one. That casino is mainly slots, but we brought in a blackjack table. In Canada, we're under the [British Columbia] Lottery Corp umbrella so we have to go through several bureaucratic steps, but they were very helpful and very cooperative. You're not allowed to show certain things, and then for our story, we also don't want to indicate that we're in British Columbia, we want to indicate that we're in Seattle.
Q: The Larsen family home was initially a real location, but then became a set. Is that a common practice?
A: It's pretty common. For pilots, you just don't have the money and the budget to build all your sets, so we find practical locations. It's a pretty common practice and there will be subtle tweaks. For the set that we built for the Larsens, they took the real location and duplicated it with some changes like wider hallways to make it more shooting-friendly. The advantage of shooting on a practical location is of course authenticity. You're in the setting itself.
Q: Is Tom Drexler's apartment really someone's home?
A: For Drexler's, we actually shot in two different locations. For the scene where the basketball hoop was, we were at the top of a new development. That big area is a common area for people in the building and we dressed it as his playroom. The scene with the glass-bottom swimming pool, that's a place called The Keefer. Essentially it's a redone building in Chinatown. There are three floors, and each floor is a rental suite for long-term or short-term rentals — it's not actually any one person's personal residence. It's a very cool location.
Q: Which location was most difficult to find?
A: The location where we had to pull the car out of the water was a little tricky. Trying to get the right deserted feel was a challenge, but we found a great little spot and it's very picturesque. We also had to go through several different governing bodies and had to essentially strip the car and steam-clean it so there would be no fuel or oil or lubricants going into the environment. We shot the scene at night for the pilot and it worked really well, [director] Patty [Jenkins] was very happy about that.
Q: Did you come to love a particular spot in Vancouver after working on this production?
A: I was pretty familiar with the area. It was the first time I was able to shoot in the new Vancouver convention center and I loved that. It's an awesome facility and location and it was very cool to shoot in there. We also got to shoot at one of my favorites, Rogers Sugar. It's an old refinery plant that just has such great levels of grit and dirt and a cool waterfront look. I was very happy to go back there.
Click here to read an interview with The Killing's Production Designer, Michael Bolton.
Save
Read More