Press
Mireille Enos Walks Golden Globes Red Carpet, Talks Season 2 with TVLine, MTV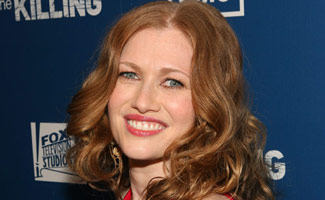 This week, nominee Mireille Enos walks the Golden Globes red carpet and discusses Season 2 with TVLine and MTV. Plus, numerous publications cover AMC's announcement of The Killing's Season 2 premiere date. Read on for more:
• StyleBistro has a photo of Mireille Enos at the Golden Globes, praising her gown for looking "gorgeous against her fair skin, particularly when complemented with a bright red lip color and a stately updo."
• While on the red carpet, Enos tells TVLine that Season 2 "picks up the moment you left it behind, and from there the stakes just jump 500 percent."
• MTV also catches up with Enos on the Golden Globes red carpet, where she says, of Season 2, "Everything gets more and more personal, and the writing is so exceptional."
• Also at the Golden Globes, Enos speaks with E! Online about World War Z, the upcoming film in which she plays Brad Pitt's wife: "It's like zombies are the new vampires. It's taking over."
• AMC's announcement of The Killing's season 2 premiere on Sun., Apr. 1 was covered by About.com, A.V. Club, Broadcasting and Cable, C21 Media, Daemon's TV, The Daily Beast, Deadline Hollywood, Detroit Free Press, Entertainment Weekly, TheHDRoom, Hollywood Chicago, The Hollywood Reporter, IGN, IMDb, Los Angeles Times, Metro, MovieWeb, Multichannel News, The New York Times, /film, TV Guide, TVLine, Variety, The Wall Street Journal, The Washington Post, TheWrap, and Zap2it.
Read More