Press
EW Names Kinnaman a Breakout TV Star, "Undertow" One of the Year's Best TV Episodes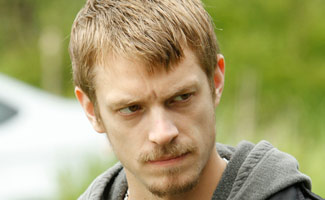 This week, Entertainment Weekly names Joel Kinnaman one of 2011's breakout TV stars and "Undertow" as one of their favorite television episodes of the year. Plus, the Los Angeles Times calls The Killing one of their favorite new shows of 2011, and Mireille Enos talks to Variety about her Golden Globe nomination. Read on for more:
• Entertainment Weekly named Joel Kinnaman as one of their 2011 Breakout TV Stars: "The 'new partner' character is a well-worn procedural trope, but Joel Kinnaman's Stephen Holder is a true original." (No Link.)
• EW also chose "Undertow" as one of their Favorite Episodes of 2011, praising it as Michelle Forbes' "finest hour." (No Link.)
• The Los Angeles Times lists The Killing as one of their "favorite things new to TV in 2011," and also gives the show kudos because "Mireille Enos is now officially a star, and that has to count for something."
• Multichannel News includes The Killing on its list of the year's top new shows, calling it a "season of gripping performances, moody plots and subplots, and one of TV's best studies of grief and loss."
• The Pittsburgh Post-Gazette gives The Killing an honorable mention on its list of the year's best TV shows.
• Variety has Mireille Enos' reaction to her Golden Globe nomination: "You can only do your work if you have the part to do it with. Roles like Sarah are so rare and I'm so fortunate to get to play that kind of part."
• CinemaBlend chooses Rosie Larsen's death as one of the year's most memorable: "Rosie's murder easily becomes one of the most important deaths of the year if only for the endless discussion it fostered."
• Billy Campbell predicts to MovieWeb that "people are going to be really happy with this new season," and tells CNN that The Killing is "without a doubt, the most fascinating thing I've ever been a part of."
Read More