Press
Michelle Forbes Returning for Season 2; Variety Thinks The Killing is a Golden Globe Contender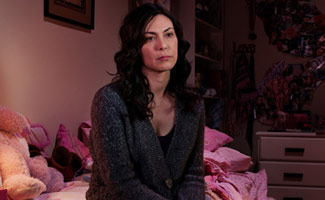 This week, TVLine reports that Michelle Forbes will be returning as a series regular during The Killing's second season, and Variety takes a look at the series' chances of garnering some Golden Globe nominations. Plus, Screen Junkies includes The Killing on its list of "5 AMC Shows That Are Better Than All Other Television Combined," and AOL TV takes a look at Sarah Linden's signature sweaters. Read on for more:
• According to TVLine, Michelle Forbes will be back as a series regular during Season 2 of The Killing. They also reveal some details about two major new recurring characters who will be introduced during the season.
• Variety thinks The Killing could land a Golden Globe nomination on the strength of the "moody Pacific Northwest atmospherics, a twisty murder and compelling characters," and also names Mireille Enos and Joel Kinnaman as contenders for acting nominations.
• Screen Junkies includes The Killing on its list of "5 AMC Shows That Are Better Than All Other Television Combined," noting, "In taking its time The Killing truly pays off to every audience member."
• AOL TV spotlights Sarah Linden's signature sweaters, since they're "such an integral part of the drama that we think it's about time they got co-starring credits."
• The National, published in the United Arab Emirates, thinks that watching The Killing "is fast becoming a 'vice' for millions around the globe who love a crackerjack whodunit."
Read More