Press
Variety, Hollywood Reporter Consider The Killing's Golden Globe Chances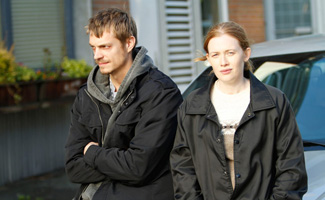 This week, both Variety and The Hollywood Reporter consider The Killing's chances of being nominated for a Golden Globe. Plus, The Killing nears its debut in the United Arab Emirates, and two new behind-the-scenes featurettes for Joel Kinnaman's upcoming film have been released. Read on for more:
• Variety previews possible Golden Globe contenders from freshman shows including The Killing, noting the show's "strong cast" including Mireille Enos, Joel Kinnaman and Michelle Forbes.
• The Hollywood Reporter thinks Mireille Enos is a potential Golden Globe nominee, saying that her portrayal of Sarah Linden "redefined the female cop."
• The Killing is coming to the United Arab Emirates, and Ahlanlive.com has the scoop on the show's "dark, beautiful and tragic story, one unlike any other drama series."
• Mania has two new behind-the scenes featurettes plus the teaser trailer for the upcoming film The Darkest Hour, co-starring Joel Kinnaman.
• MTV News makes note of Billy Campbell's prediction on who would win in a fight between actress Mila Kunis and actor Bradley Cooper.
Read More