What You're Saying About Darren Richmond Being Orpheus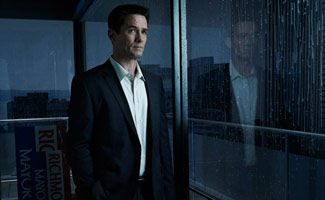 This week, fans of The Killing have been debating whether or not Darren Richmond is the Beau Soleil client who uses the pseudonym "Orpheus." Here's a sample of what people are saying:
• "Celine met with Orpheus and ID'd him as Richmond by asking Holder to go to where the campaign posters were hanging. At the same time, Linden was seeing that the emails that she was sending to the address associated with the creepy dude Celine posted about were arriving in Richmond's inbox. Richmond is Orpheus, but we don't know of any of his activities with Beau Soleil other than him being sad, pathetic, and obsessed with drowning." — Shell
• "Why would the councilman keep using Orpheus if he was the killer? Also, he was using that 'screen name' for his councilman duties. On the screen, I saw quite a few emails concerning his campaign." — RickBlaine
• "I think the real Orpheus is paying the girl to say that to frame Richmond. I think that's why he set the account up." — quilltr
Be sure to explore The Killing Talk forum, where you can join a conversation or start a topic of your own.
Read More