Press
The Hollywood Reporter Names Veena Sud a Power Showrunner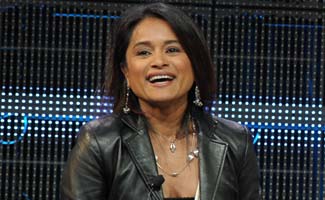 This week, Veena Sud is named one of the industry's top showrunners by The Hollywood Reporter. Plus, Billy Campbell discusses filming his latest movie, Kristin Lehman lands a new movie role, and Mirelle Enos signs with a new talent agency. Read on for more:
• Veena Sud is one of the Top 50 Power Showrunners, according to The Hollywood Reporter: "[The Killing's] April 3 bow was AMC's second-highest series debut… and her Emmy-nominated star Mireille Enos… became cable's most intriguing new face."
• Canada's The Chronicle Herald interviews Billy Campbell, who talks about filming his latest movie, The Disappeared, on the open ocean: "No matter how terrific green screens have become, it can't equal the real thing."
• Kristin Lehman has been cast in a film called Arthur Newman, Golf Pro, which stars Colin Firth and Emily Blunt, indieWIRE reports.
• Mireille Enos has signed with a new talent agency, CAA, according to Deadline.
Read More