What You're Saying About Linden and Holder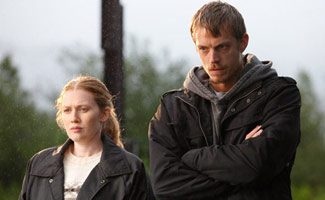 Linden and Holder's intense conversations during Season 1 Episode 11, "Missing" provided some insight into the emotional baggage that each of them is carrying. Here's a sampling of what The Killing fans are saying:
• "Great series, very good character acting! Not since The X-Files with Mulder and Scully have I seen such bonding between two professionals working together and dealing with each other's troubled personal lives. Episode 11 helped we the viewers understand just how human and vulnerable detectives Linden and Holder really are." — Michael
• "As a fan of diner scenes (I know, it's weird) this had one of the best — right up there with Pulp Fiction, Clean and Sober, and Five Easy Pieces. I really loved seeing Linden and Holder fence with each other emotionally." — jasmine
• "This series was touted as a character study, and we finally got to see what makes Linden and Holder who they are. Linden and Holder were broken people. This murder has brought them closer" — Spinner
Be sure to explore The Killing Talk forum, where you can join a conversation or start a topic of your own.
Read More