What You're Saying About Belko's Mom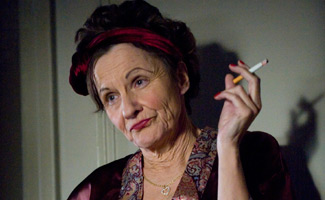 After watching Season 1 Episode 10, "I'll Let You Know When I Get There," fans of The Killing had a lot to say about Belko's creepy mother Bev and how much of an effect she may have had on Belko. Here's a sampling:
• "Blame everything on his weirdo mom. The collage is semi-disturbing, but I think he just sees a family that he never had and wants a small piece." — Nicole
• "I'm thinking Belko's a lonely guy. Lays on his bed because there is literally no place to sit in there, and he thinks of the Larsens as his family. The only one he has, as it turns out." — quilltr
• "That's why he makes his bed every morning — so mama doesn't go in there and discover his Rosie ceiling decoration." — Wendy S.
Be sure to explore The Killing Talk forum, where you can join a conversation or start a topic of your own.
Read More