Press
New York Times Talks To Michelle Forbes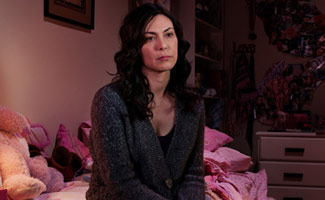 This week, publications including the Los Angeles Times, New York Post, and Philadelphia Inquirer argue that Mireille Enos is deserving of the best drama actress Emmy, and The New York Times interviews best supporting drama actress Michelle Forbes. Plus, Veena Sud participates in a panel of Emmy-nominated writers, and Billy Campbell lands a new movie role. Read on for more:
• The Los Angeles Times thinks Mireille Enos has "a better than expected chance" to score an upset Emmy win for best drama actress, and the New York Post cites her "understated performance" to argue that she should win.
• The Philadelphia Inquirer is also in Enos' corner, saying she is "better than any" of her fellow nominees. TV Fanatic also thinks Enos has a good shot because she "gets to play angry, scared, distraught, and relieved all within a 15 minute span."
• Canada's Postmedia News thinks Enos should win for underplaying "a role where the temptation must have been to overplay, and for being The Killing's quiet heart and soul at the core of an excruciatingly painful mystery," and the Contra Costa Times praises her for being "quietly stellar as a stoic homicide detective."
• As part of its Emmy coverage, The New York Times interviews drama supporting actress nominee Michelle Forbes, who reveals that she's only seen the first two episodes of Season 1 and says that she admires the work of Breaking Bad's showrunner, Vince Gilligan. Forbes is also included in a Los Angeles Times roundtable for first-time Emmy nominees.
• Deadline reports on a panel featuring Emmy-nominated writers that included Veena Sud.
• Screen International reports that Billy Campbell is set to star in a new film called The Disappeared. And according to The Hollywood Reporter, The Rocketeer, a 1991 film starring Billy Campbell, is being released on Blu-Ray in December.
• The Boston Globe includes The Darkest Hour, featuring Joel Kinnaman, in its fall movie preview. The film opens Christmas Day.
Read More