Press
EW Thinks Enos Should Win Best Actress, The Killing Deserved More Emmy Nods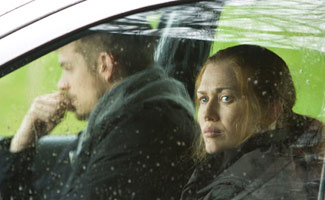 This week, Entertainment Weekly looks ahead to the Emmys, declaring that Mirelle Enos should win the the Best Actress in a Drama Emmy and that The Killing deserved three more Emmy nominations than it got. Plus, Deadline Hollywood reveals who will direct the Season 2 premiere. Read on for more:
• While Entertainment Weekly thinks that Julianna Margulies will win the Best Actress in a Drama Emmy for CBS' The Good Wife, they also think that Mireille Enos should win, remarking that her "steely-cool homicide detective burned bright all season." (No Link)
• Entertainment Weekly's annual feature on actors and series overlooked by the Emmys includes Joel Kinnaman in the Best Actor in a Drama category ("[Kinnaman] transformed into a swaggering meth addict to steal scenes"), Brent Sexton in the Best Supporting Actor in a Drama category ("[Sexton] delivers as Stan Larsen, a grieving father with a dubious past") and the series itself in the Best Drama catagory ("a moody and intriguing whodunit").
• Gold Derby notes that an Emmy win by Patty Jenkins would be be the Best Drama Directing category's first female winner since 1995 (when Mimi Leder won for directing an episode of ER).
• Deadline Hollywood reports that Agnieszka Holland, who previously directed Season 1 Episode 6, "What You Have Left" and Season 1 Episode 9, "Undertow") is set to direct the Season 2 premiere.
• Brandon Jay McLaren (Bennet Ahmed) talks to Reelz.com about his new film and assures fans of The Killing that the murderer will be revealed in Season 2.
Read More