More of What You're Saying About Rosie Larsen's Interactive Room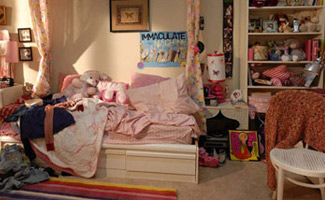 Rosie's Room offers fans of The Killing a chance to join the investigation into the murder of Rosie Larsen by clicking through a virtual simulation of Rosie's bedroom. Many of you have already scoured the room and posted your thoughts in The Killing Talk forum about items in the room that could be potential clues. Here's what some of you had to say about what you found:
• "Went through Rosie's bedroom again today. There is a book in her dresser drawer that was written by Edmund Mitchell. Edmund Mitchell was a photojournalist. So if Rosie has the journalism bug, she truly may have taken a picture, seen, or heard something she shouldn't have." — garytelecastor
• "I think Rosie's Room serves as an outlet for us to know Rosie Larsen herself. Which is cool, because it makes her like a ghostly presence as opposed to just a picture of a pretty girl." — Ted
• "I won't be surprised if we find out Rosie made trips to Vancouver. In her online room, she has an album of Vancouver's greatest hits. Her computer shows pictures of her with several Asian people… Vancouver has a large Asian population (larger than Seattle I believe)." — The Hardy Boys
Click here to explore Rosie's Room yourself. And also be sure to explore The Killing Talk forum, where you can join a conversation or start a topic of your own.
Read More