Music From The Killing Season 1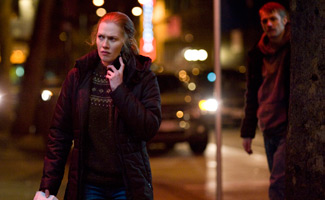 Music is a key contributor to the dark and foreboding tone of The Killing. In addition to the goosebump-inducing "Main Title Theme" (written by Richard File and Wendy Rae Fowler and performed by We Fell To Earth), Frans Bak's haunting original score helps set the show's somber mood and punctuates emotional moments like the discovery of Rosie's body in Episode 1, Stan's breakdown in the gas station men's room in Episode 5, and Sarah's sobs of relief in Episode 11 when a body discovered at a crime scene turns out not to be her son Jack.
In addition, The Killing also draws on the work of popular recording artists, with Music Supervision by Thomas Golubić (click here to read an interview with Thomas, who is also the Music Supervisor for Breaking Bad). Check out a list of the songs featured on The Killing during Season 1 after the jump.
Episode 1: "Pilot"
Sybreed, "Static Currents"
Losers, "No Man is an Island (Losers Theme)"
Episode 3: "El Diablo"
Brother Von Doom, "A Beautiful Masquerade"
Shinobi Ninja, "Stop"
Cursive, "A Gentleman Caller (Worst is Over)"
Episode 4: "A Soundless Echo"
Brother Von Doom, "A Beautiful Masquerade"
Kemdi, "Still A Dancer (Dub Mix)"
Belle & Sebastian, "Sleep the Clock Around"
Episode 6: "What You Have Left"
A Hawk & A Hacksaw, "Cervantine"
Neko Case, "Hold On, Hold On"
Episode 9: "Undertow"
Nina Simone, "If I Should Lose You"
Episode 10: "I'll Let You Know When I Get There"
Coleman Hawkins, "Bean's Blues"
Episode 11: "Missing"
Pure Prairie League, "I'm Almost Ready"
Patrick Park, "Blackbird Through the Dark"
Clifford T. Ward, "Sunshine Girl"
Episode 12: "Beau Soleil"
Emika, "Drop the Other (Scuba's Vulpine Remix)"
Frans Bak, "Spar I Sanden"
Josh Byrd, "When Jesus Comes to Me"
Episode 13: "Orpheus Descending"
Chuck Lawless, "Air It Out"
BONUS MUSIC! Be sure to visit Rosie's Room and explore her laptop to find out what music Rosie was listening to just before her untimely death.
Click here to learn about the music from The Killing Season 2
Read More