Interviews
The Killing Season 1 Interviews With the Cast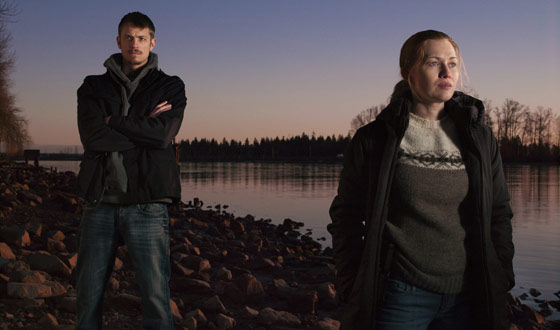 One great way to go deeper into The Killing's first season is to check out the exclusive cast interviews conducted earlier this year. Below is a sample of what the actors had to say about working on the series. Click on their names to read the full interview.
• "It's interesting that once I moved to TV, I'm playing these scrappy, contemporary toughies. It's fun." – Mireille Enos (Sarah Linden)
• "It's like saying which part of the sandbox do you like playing in." – Billy Campbell (Darren Richmond)
• "When I finished reading the last page, I had tears in my eyes. That doesn't happen often when you're reading a script, especially not when you're reading it off your computer." – Joel Kinnaman (Stephen Holder)
• "I actually adore [working with children], because you watch their imagination open up and you watch them start to learn this job that I've been doing for so long." – Michelle Forbes (Mitch Larsen)
• "I think they knew I could handle the level of conflict that this character had." – Brent Sexton (Stan Larsen)
• "I ran for ninth grade class president. Came in a close second. [laughs] But at that stage it's about 'who likes me?' which really isn't that much different than modern day politics." – Kristin Lehman (Gwen Eaton)
• "Whenever you take on a character like this — somebody who is easily villainized or somebody who possibly could be disliked by your audience — it's important that you make sure you justify everything that he or she is doing." – Eric Ladin (Jamie Wright)
• "I was blessed with really nice hair. I get to the set and Julie, my hair lady, we proceed to laugh about how nice it looks and then she messes it up. Once she messes it up, we spray it so it stays looking like a lady who lives on a boat." – Annie Corley (Regi Darnell)
• "In every role a part of me gets to come out. In this one it's been my quirky sense of humor, in moments with the kids." – Jamie Anne Allman (Terry Marek)
Encores of Season 1 of The Killing will air on Sunday nights at Midnight | 11C beginning Jul. 17 following an encore presentation of the Breaking Bad premiere. New episodes of The Killing will return in early 2012.
Read More