Press
The Killing's Enos and Forbes React to Emmy Nominations; Kinnaman Talks to L.A. Times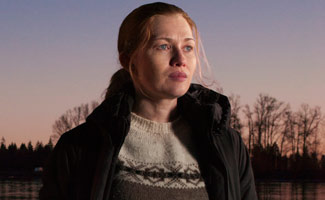 This week there was extensive coverage of The Killing's six Emmy nominations, Joel Kinneman spoke to the Los Angeles Times about the fan reaction to the season finale, and overseas press, including an interview with Veena Sud, began rolling in as The Killing made its debut in the UK. Read on for more:
• Outstanding Lead Actress in a Drama Series nominee Mireille Enos spoke to The New York Times about her nomination and also shared her thoughts on the season finale.
• After her nomination for Outstanding Supporting Actress in a Drama Series, Michelle Forbes told CNN Entertainment that the nod was "unexpected," and also spoke with Variety about her character's mid-season switch from a sympathetic, mourning mother to a parent out for revenge.
• Patty Jenkins snagged an Outstanding Directing for a Drama Series nomination for her work on The Killing's pilot and discussed her reaction to the honor with Variety.
• The Killing's six Emmy nominations were also covered by The Hollywood Reporter, The Huffington Post, the Los Angeles Times, The New York Times,, Time, USA Today, The Washington Post and The Washington Times.
• Joel Kinnaman told the Los Angeles Times that he was surprised by the public and media reaction to the series finale.
• The Boston Globe described The Killing as a ratings success and offered up their opinion on the season finale.
• Using The Killing and Breaking Bad as examples, The Morton Report took a look at how avid fans use the internet to try and change the direction of TV programming.
• In advance of The Killing's UK broadcast premiere, executive producer Veena Sud talked with The Telegraph about how she created the U.S. version of The Killing by incorporating the compelling storytelling of the original series with her own personal ideas and characters.
• The Killing's suspense, performances and "tantalizingly tense plot" were praised by the Irish Times.
• The Independent discussed the Danish origins of the The Killing and how the series goes beyond being just a murder mystery by delving into the psychological burdens of a victim's friends and family.
• The Guardian offered their thoughts and observations on Season 1 of The Killing.
• The Herald took a defensive stance against critics, noting "The Killing is dark and gripping, and the performances… are first rate."
• Deadline.com reports that Callum Keith Rennie, who plays "Rick Felder" on The Killing, has been cast in NBC's new drama series, The Firm.
Read More