What You're Saying About Terry Marek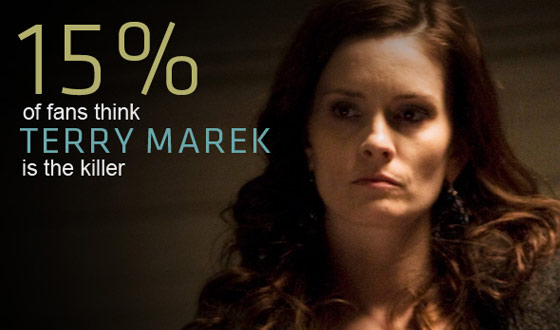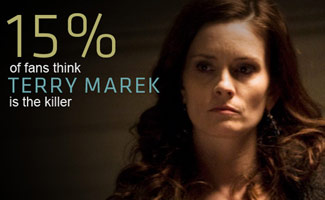 Fans of The Killing are now divided about who they think killed Rosie Larsen, as evidenced by this week's final Suspect Tracker vote. With five suspects finishing within four percentage points of one another, Terry Marek emerged with the largest percentage of the vote at just 15%. Here are some of your theories on why you think Terry did it:
• "You can tell she is hiding something. I think she is jealous of her sister's marriage and was jealous of Rosie as well. They portray her as such a help to the family, but in my mind she overdoes her helpful duties out of extreme guilt." — Lodi Dodi
• "I think Rosie was involved with Jasper's dad (we know that he owns waterfront properties and is wealthy) and that when Terry found out she killed Rosie." — Cole Phelps
• "I've pegged Terry as the killer for the last four weeks. I think Rosie confronted Terry about something, as evidenced by the note on the post-it in her room." — fraochmac
Share your own theories on why you think Terry is (or is not) the prime suspect in the Terry Marek Open Thread. And be sure to explore the entire The Killing Talk forum to join conversations about other suspects in the case and discuss every episode of The Killing.
Read More