More of What You're Saying About Jamie Wright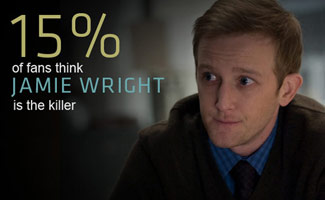 Following Episode 11, "Missing," fans of The Killing remain very divided about who they think killed Rosie Larsen. In this week's Suspect Tracker poll, three suspects finished within four percentage points of one another, with Jamie Wright finishing in the top spot for the second time this season with 15%. Here are some of your latest theories on why Jamie did it:
• "The killer has to be somebody from inside the campaign because of the car. It's just to much of a coincidence for a murderer to happen upon one of the unlocked campaign cars with the keys in it, then run across Rosie and kill her. Nobody inside the campaign has clear motive, and Jamie is the only without a clear alibi." — ongbok
• "At some point Rosie and Darren met up and Jamie took it the wrong way. Either he feared for his boss and took her out to save the campaign, or he killed her to take Darren out of the running because he is secretly working for the other side. Just because they found the first leak doesn't mean there isn't another one." — Jon N.
• "Rosie was killed after being chased through the woods by someone kind of slight, not too big. Jamie fits that bill." — Michael L.
Share your own theories on why you think Jamie is (or is not) the prime suspect in the Jamie Wright Open Thread. And be sure to explore the entire The Killing Talk forum to join conversations about all of the other suspects in the case, as well as about every episode of The Killing to date.
Read More