Press
Emmy Buzz Continues; New York Post Asks, 'Who Killed Rosie Larsen?'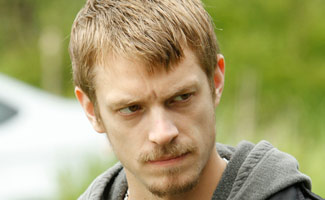 Talking Emmys, Zap2it is hoping for that Joel Kinnaman gets a nomination and Entertainment Weekly believes that The Killing could be one of the few freshman TV series to get nominations in several categories. Meanwhile, the New York Post ponders who killed Rosie Larsen. Read on for more news on the show.
• Zap2it thinks an Emmy nomination for Joel Kinnaman "would be a pleasant surprise" because he can "combine the creepy… with a sensitivity and a emotional core…"
• Entertainment Weekly thinks The Killing "will be among the few first-season shows that will garner nominations in a few categories."
• HitFix thinks Michelle Forbes should get a supporting actress Emmy nomination, describing her as "so raw, so powerful at showing a woman whose life and personality have been completely wrecked by her daughter's murder."
• The "excellent, tense" Episode 12, "Beau Soleil," moved The Killing up a notch to No. 2 on the The Hollywood Reporter's power rankings.
• Whodunit? The New York Post thinks the killer in "the year's best new series" is Darren Richmond, though Mireille Enos isn't telling. E! Online thinks it knows: "For the record, we totally said Billy Campbell did it way back at TCA in January after having seen just the trailer." The Buffalo News — which calls the drama "one of the best series to hit TV in a long time" — was "delighted when the not-so-fickle finger of fate pointed to [Richmond] as the bad guy." The Orange County Register "doesn't recall being this stumped by a TV mystery so late in the story. And that's a good thing."
• The Boston Globe concludes that The Killing "has expanded from a conventional whodunit into something more querying and trenchant."
• TV Guide likes The Killing "as a multi-faceted character study played out against a murder investigation and the subsequent emotional fallout" and compliments "Missing" as an "episode of rare psychological nuance."
• The Los Angeles Times discusses The Killing's deliberate pace: "Listen up, folks; it's going to be a slow ride, but the scenery is nice."
• Canada's Times & Transcript calls The Killing "harrowing, uncompromising and wound as tightly as any big-screen thriller."
• Variety describes The Killing's characters, especially the male leads as "mysterious, murky, multidimensional, captivating, somber, sad."
• Veena Sud tells the Canadian Press about the casting process: "I did not want stars… I wanted the best actors out there who really could be these people." She also talked to the Calgary Herald and The Globe and Mail.
• Veena Sud tells The Hollywood Reporter some of AMC's success is because it "allows us to surprise ourselves and the audience." (No Link)
• Mireille Enos shares with TVLine that she'll probably submit the pilot episode to Emmy voters if she gets a nomination and calls her World War Z co-star Brad Pitt "a really lovely man."
• Joel Kinnaman reveals to TV Guide his favorite scene. He promises Entertainment Weekly that the season finale will leave everyone "satisfied… and hungry for more."
• Michelle Forbes talks to the Huffington Post about her attraction to Mitch: "as an actor, what I'm always looking for is something that will inform me about the human condition."
• Variety profiles Michelle Forbes and notes that her previous roles on crime dramas prepared her for Mitch. Movie City News features a video Q&A with Forbes in its "DP/30 Emmywatch."
• Katie Findlay (Rosie Larsen) chats with the Los Angeles Times about her audition: "I was running through the 'woods' screaming and being chased. I had all these things I had to do, but I was doing them in a postage stamp room."
• The Edmonton Journal profiles Seth Johnson (Denny Larsen), and his dad says, "the entire crew went out of its way to make the kids feel comfortable."
• Author Judy Blume tweeted about preparing to watch The Killing's penultimate Season 1 episode.
• The Hollywood Reporter covers The Killing's renewal for a second season. Examiner.com writes, "We knew this was a foregone conclusion in many ways." New York Newsday calls it "great news for The Killing fans." Cinema Blend says news of the renewal "brought a smile to my cynical face." In discussing the renewal, the Orlando Sentinel compares the series to "a first-rate mystery novel." /film is "so very happy" to report the renewal. The New York Times, the Los Angeles Times, Monsters & Critics, TVLine and Zap2it also chimed in.
• TVLine shares that Mireille Enos and Joel Kinnaman will be back for Season 2, as well as Jamie Anne Allman (Terry Marek, Mitch's sister). Brent Sexton tells TV Guide that the Larsen family will be there too.
• Time says of "Missing": "although I never doubted we'd get great work from Mireille Enos, it highlighted what great work Joel Kinnaman has been doing."
• Joel Kinnaman will play a leading role in Daryl Wein's film Lola Versus, according to The Hollywood Reporter.
• For recaps and reviews of Episode 12, "Beau Soleil," check out the A.V. Club, Basket of Kisses, CNN, Crave Online, Daemon's TV, Examiner.com, Gather.com, HitFix, the Los Angeles Times, New York Magazine, Poptimal, Salon, Slate, TV Fanatic, TV Squad and the Wall Street Journal.
Read More