Press
Denver Post Lauds The Killing; TV Guide Cheers Mireille Enos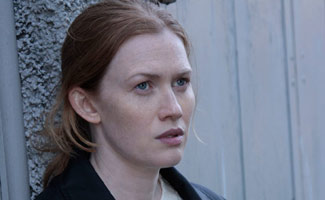 This week, the Denver Post recommends The Killing while TV Guide cheers Mireille Enos. Enos was also profiled by Variety, The Hollywood Reporter, and Emmy magazine, plus Emmy nomination talk for Enos, Billy Campbell, Brent Sexton, Michelle Forbes and the series itself ramps up. Read on for more:
• The Denver Post recommends, "If you prefer dark, serious, well-acted drama… The Killing (adapted from the Danish drama) is the best series on the air."
• TV Guide cheers Mireille Enos for her "captivating performance" and hopes "the Emmys don't forget Enos when nomination time comes around."
• Variety discusses Sarah Linden's quietude and says it's "a perfect fit for the show's brooding, meditative tone."
• The Hollywood Reporter profiles Mireille Enos, noting that Sarah Linden has "shaken up television's female-cop prototype by — shock! — channeling her character's brain rather than her sexuality." In Emmy magazine's profile, Enos describes her "richly full" life as being "like manna from heaven." (No Link)
• Gold Derby runs through the new contenders with Emmy nomination possibilities, including The Killing for best drama, Mireille Enos for best actress, Billy Campbell and Brent Sexton for best supporting actor and Michelle Forbes for best supporting actress.
• Variety thinks The Killing could get a best series Emmy nomination, remarking, "Mireille Enos captivates in a lead role seldom allowed for women." It also picks a moment from Episode 2, "The Cage" as one to remember from the season.
• Broadcasting & Cable sees The Killing as a possible best drama Emmy nominee and thinks Mireille Enos is a popular best actress choice "for her understated work." (No Link)
• The Broadcast Television Journalists Association announced its first-ever Critics' Choice Television Awards, and The Killing was honored with three nominations — for best drama series, best actress (Mireille Enos) and best supporting actress (Michelle Forbes).
• Episode 11, "Missing" was one of the Cleveland Plain Dealer's top TV picks this week, while TVLine includes Episode 12, "Beau Soleil" in its list of "TV Worth Watching This Week."
• MSNBC interviews Eric Ladin about his work in the inFamous 2 video game, and he notes, "I think every boy at some point wants to play a super hero."
• Variety thinks AMC has "really raised the stakes" by putting all 11 aired episodes on its website. (No Link)
• For recaps and reviews of Episode 11, "Missing," check out The Atlantic, A.V. Club, Basket of Kisses, CNN, Crave Online, Daemon's TV, Examiner.com, Gather.com, HitFix, Los Angeles Times, New York, Poptimal, Salon, Slate, TV Fanatic, TV Squad and The Wall Street Journal.
Read More