Uncategorized
Q&A – Dawn Prestwich and Nicole Yorkin (Co-Executive Producers)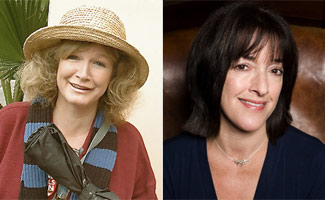 Dawn Prestwich and Nicole Yorkin are co-executive producers as well as writers for The Killing. In this exclusive interview with AMCtv.com, they talk about writing for the show, what it's like inside the writer's room, and their favorite episode from the first season (so far).
Q: What role do you play in the writing of the show?
Nicole Yorkin: We're sort of Veena's right hand women. We are in the writers' room the entire time with Veena and the entire staff working on all the story arcs for the season and for the characters. That was a fairly intense process.
Dawn Prestwich: When Veena wasn't there, we basically ran the room. She would be up in Vancouver supervising her episode and we would be running the writers' room [in Glendale, CA], and she would come back and we would go up to supervise our episode being shot.
NY: We would cast our episode and find locations and do all the prep work with the director. Then we would be there for both our episode and for either the episode before it or after it. Sometimes those episodes were done by a less experienced writer, so we would be there to help.
Q: I love that there's a triumvirate of women at the top.
NY: [Laughs] We love it too. We would all laugh amongst ourselves because at one point, Veena, Dawn and I, and Kristen Campo (one of the producers) were all there on the set, sitting in our little director's chairs, and that's not a sight you see that often.
DP: Sometimes it would be a heavy, if not totally, female presence behind the monitor. And it's not like we feel this is a female show at all. This is just a show about people.
Q: Was it hard to write for a character like Linden, who doesn't say much and has so many internal moments?
DP: It was especially hard initially. We were going to have her leave Regi's boat sooner, but we all kind of realized that Regi is our main source of revelation about Sarah's character.
NY: Mireille does so much with her face. She's so incredibly expressive without having to speak really.
DP: She just pulls you in. There's not a minute in network television where you are allowed to not have all the information and it's such a drama killer. So that's been a real pleasure, to not have to do it.
Q: What are the challenges of writing a crime thriller series?
NY: Veena assembled a brilliant room. Two of our writers had been on Damages.
DP: They had a good brain for the procedural element.
NY: Soo Hugh had been a visual artist and a filmmaker, and Linda Burstyn had actually run political campaigns and was a political speechwriter before she became a TV writer. Then we had Nic Pizzolatto, who is a novelist who had done a police type novel, and then of course Veena, who had spent so many years on Cold Case. All these disparate factors came together to make really interesting twists and turns.
Q: What did the writers' room look like?
NY: We had windows. We've been in plenty of writers' rooms that don't have windows, so that was a plus.
DP: We had a lovely view of downtown Glendale.
NY: And the room was dominated by a gigantic white board that had been taped off with the number of episodes across the top and the characters down the side. We would just start putting pieces into place in this giant sort of grid.
DP: And we would know that this piece of information has to drop in this episode and that this moment has to happen in this episode so we can pay it off in this episode. It's a big puzzle. All the things have to build together. You have the disparate pieces of information that have to happen in that episode, and then you have to turn it into a story that is satisfying for that episode alone.
NY: In terms of what it's like, it's eight people sitting around a table with a writer's assistant who is taking notes. And lots of coffee.
DP: [Laughs] And snacks.
NY: And one of my dogs broke her leg and had to go through some rehab, so I brought her in every day. We had Matilda the pit bull in the room.
Q: Do you have a favorite episode from this season?
NY: I personally loved the episode where Sarah's son disappears. That actually touched me even though I'd read it and knew about it all along. It always gets me emotionally.
DP: I love the moment after she realizes that the boy's body is not her son and she's sobbing and Holder comes over. He's really brave in that moment and he wants to be there for her and he touches her shoulder and she kinda lets him. It's such a perfect moment exemplifying who they are as a team.
Click here to read an interview with Mireille Enos, who plays Sarah Linden.
Read More