More of What You're Saying About Bennet Ahmed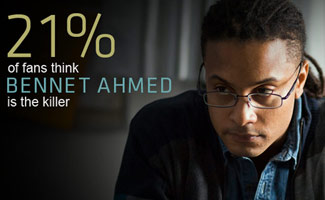 The Killing community continues to cast their votes each week via The Killing Suspect Tracker for who they think is the prime suspect in the murder of Rosie Larsen. Following the latest episode, the fans made Bennet Ahmed their top pick for the third time this season. Here are some more fan theories about why he's the prime suspect in the case:
• "Has to be the teacher! He was probably her favorite teacher, she probably rejected him when he came on to her, so he got pissed and things quickly got out of control." – rolandn.taylor
• "If he and Rosie had a secret relationship (although I think it was non-romantic), and then she refused his advances, that could lead to trouble, as he could lose his career for chasing a minor." – Lan_Man
• "Right now, Ahmed looks like Rosie's secret crush/admirer/lover. And her murderer." – moonrayn
Head over to the Bennet Ahmed Open Thread on The Killing Talk forum to share your own theories on why you think he is — or isn't — the prime suspect in the case. And be sure to explore the entire The Killing Talk forum to join conversations about other suspects in the case and discuss every episode of The Killing.
Read More