More of What You're Saying About Belko Royce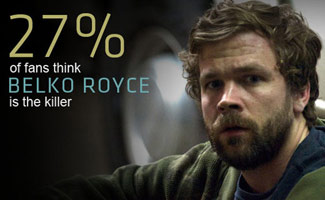 For weeks, fans of The Killing have been casting a suspicious eye on Belko Royce via The Killing Suspect Tracker. After finishing a close second two weeks ago, this week Belko is the fans' #1 suspect. Here are some more of your theories on why Belko Royce is Rosie Larsen's killer:
• "He seems to have an twisted obsession with being a part of the Larsen family. Maybe he thought if he seduced and subsequently married Rosie, he would finally become part of the clan. During his seduction attempt, things go horribly wrong for Rosie." — Gen_Turgidson
• "The examiner told Linden there were traces of cleaning solution on Rosie's body and specifically said it could be used to clean hands. The very next scene shows Belko working underneath a vehicle, and when he comes out, his hands are all dirty and greasy. If he uses that cleaning solution to clean his own hands, he may have used it on Rosie." — jennifero
• "Tons of subtle evidence against Belko. His weird interactions with the boys. His wetting the bed until age 17. His mob ties. His trying to set Ahmed up to be killed by Stan. His hiding the cellphone on the table. Watch it carefully as it all adds up!" — Steve Owen
Share your own theories on why you think Belko is (or is not) the prime suspect in the case in the Belko Royce Open Thread. And be sure to explore the entire The Killing Talk forum to join conversations about other suspects in the case and discuss every episode of The Killing.
Read More