What You're Saying About Amber Ahmed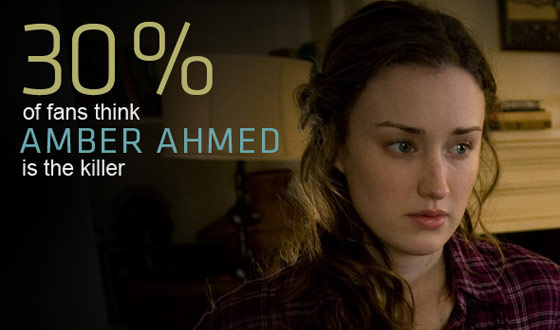 Fans continue to go in increasing numbers to The Killing Suspect Tracker to cast their vote and share their theories on who killed Rosie Larsen. This week fans voted Bennet Ahmed out of the top spot in favor of a new prime suspect: Bennet's wife, Amber Ahmed. Here are some of your theories on why Amber is the killer:
• "She looks innocent, but there is a motive there. She could have found out about the letters her husband was exchanging with Rosie and become jeolous. Also, we don't know for sure she was at her sister's house that weekend. Amber's husband said she was but there is no alibi at this point." — Andrea
• "Congratulations Amber! You are now my favorite person of interest alongside with your hubby! Reasons: Old Carl Sagan who stated he saw a car pull outside of Bennet's house carrying something bundled in a blanket and a shorter person (a woman he believes) standing with him. Black car = dark blue campaign car?" — Ted
• "It's obvious. Amber did it. She's jealous. Remember that old adage: Hell hath no fury like a woman scorned " — Jodi Jackman
Check out the Amber Ahmed Open Thread on The Killing Talk forum to read more theories on why she is (or isn't) the prime suspect in the case, as well as share your own. And be sure to explore the entire The Killing Talk forum to join conversations about other suspects in the case, as well as to discuss every episode of The Killing so far.
Read More