Press
Cynopsis Sees Emmy Nom For Enos; Poptimal Names The Killing Best New Show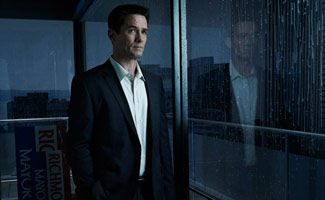 Will Mireille Enos be honored with an Emmy nomination this year? Cynopsis Media thinks so. Meanwhile, The Killing was named the season's best new show by Poptimal and took the No. 3 slot in The Hollywood Reporter's latest power rankings. Read on for more:
• Cynopsis Media predicts Mireille Enos will get a best actress Emmy nomination.
• Poptimal considers The Killing to be the season's best new show: "It will haunt your dreams and turn a TV show into an obsession."
• The Killing moves up a notch to No. 3 on The Hollywood Reporter's power rankings for the week ending May 22, noting, "there is still plenty of meat here and plenty to like."
• AMC lands at No. 4 on Ad Age's Entertainment A-List (behind Glee at No. 1), citing the network's "savvier" marketing efforts, including the portrayal of The Killing "more as a murder mystery than a police procedural."
• The Daily Beast interviews Michelle Forbes, who shares, "when you're dealing with two people who are confused by their grief, that's an interesting scenario."
• Canada.com interviews Brandon Jay McLaren (Bennett Ahmed), who talks about the Suspect Tracker and how he likes having his character in the lead: "When you go down, you're kind of pissed off, like, 'What?'" He tells Zap2it about the finale, "It's good, it's really, really good."
• Patrick Gilmore (Tom Drexler) jokes to MediaBlvd Magazine about standing next to Billy Campbell: "they had me next to him and three models in stilettos so I look like a Pygmy Warrior next to all these tall, tall people."
• Vanity Fair previewed Episode 9, "Undertow," with this: "viewers will find the last fifteen to twenty minutes anything but slow. And Joel Kinnaman just keeps getting ghostily better and better."
• In its Episode 9, "Undertow," preview, Cinema Blend praises The Killing for its "compelling mix of character(s) study, evidential puzzles and good old fashioned suspense."
• The Seattle Times is "still loving the performances, particularly Joel Kinnaman's loopy Detective Holder and Michelle Forbes as the haunted, grieving Mitch Larsen."
• Variety writes about U.S. networks adapting foreign shows and mentions The Killing, based on Denmark's Forbrydelsen, and adjustments that had to be made.
• TheaterMania.com reports that Mireille Enos will join a reading of Alan Alda's new play, Radiance: The Passion of Marie Curie; the cast includes her The Killing co-star, Brent Sexton.
• For recaps and reviews of Episode 9, "Undertow," check out the The Atlantic, A.V. Club, Basket of Kisses, CNN, Crave Online, HitFix, Los Angeles Times, New York, Salon and Slate.
Read More