Press
Vanity Fair Calls The Killing "Best Show on Television;" Sexton Cheered by TV Guide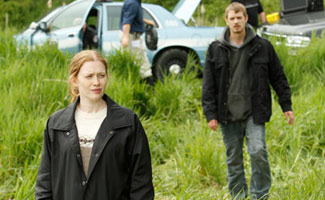 This week, Vanity Fair deemed The Killing the best show on television, TV Guide gave a rousing cheer to Brent Sexton for his performance as Stan Larsen, Michelle Forbes talked to New York, and several publications called for Emmy nominations for members of The Killing cast. Read on to learn more:
• Vanity Fair, calling The Killing "the best show on television," talks about getting addicted to "the heroin of dramatic television series" after just one episode.
• TV Guide cheers Brent Sexton for "his shattering performance" and notes that The Killing "stands as the best drama currently on the air."
• To New York magazine, Michelle Forbes says of Mitch, "she's not only dealing with the gutting heartbreak of losing her child, but she also starts to be betrayed by everyone around her."
• The Boston Globe implores Emmy voters to consider Joel Kinnaman, "who's dynamite as the gonzo young detective on AMC's The Killing," for a nomination.
• TV Guide thinks it would be "amazing" if Michelle Forbes won an Emmy for her "incredible work" on The Killing.
• Gold Derby lists The Killing's official Emmy contenders in the acting categories, including Mireille Enos for best actress.
• The Fayetteville (N.C.) Observer praises The Killing for allowing "characters to develop in ways that keep viewers guessing." A Kansas City Star columnist includes the show on her list of "Stuff I Like (Right Now), calling it "one long, well-told episode of Law & Order: SVU."
• People interviews Ashley Johnson (Amber Ahmed), who shares that people thought she really was pregnant: "I'd get espresso next door and they would look at me. I'd go, 'No, this is totally fake.' Then they thought I was more crazy because I was walking around with a pillow underneath my shirt." (No Link)
• Digital Spy reports that The Killing will air in the U.K. later this year since Channel 4 has secured free-to-air rights to the show's first two seasons. The Guardian thinks the show will "doubtless prove gripping viewing" for those unfamiliar with the Danish version (which was shown in the U.K.).
• For recaps and reviews of Episode 7, "Vengeance," check out the The Atlantic, A.V. Club, Basket of Kisses, CNN, Crave Online, HitFix, Los Angeles Times, New York, Salon, Slate and TV Squad.
Read More