Press
Emmy Talk for Forbes, Sexton, Campbell from TV Guide; NY Post Praises Kinnaman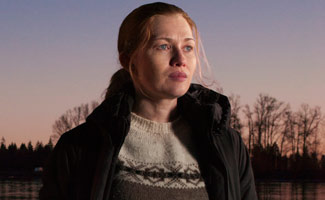 TV Guide thinks Michelle Forbes, Brent Sexton and Billy Campbell could receive some Emmy recognition, and Joel Kinnaman is lauded for his "air of lanky menace" in a New York Post profile. Read on for more:
• Matt Roush's week in review in TV Guide includes an Emmy alert: the "grieving Larsens, played by Brent Sexton and Michelle Forbes, remain the heart and tortured soul of AMC's remarkable The Killing."
• Discussing the Emmys, Gold Derby puts Billy Campbell on the list of those "hoping for their first Emmy recognition" and believes Michelle Forbes "might finally have a role that resonates with Emmy voters."
• The New York Post profiles Joel Kinnaman: "With his hollow eyes and air of lanky menace, he slips so seamlessly into the role of Detective Stephen Holder, a former narc who lures suspects by offering them fake joints, you'd think he came off the streets."
• New York Magazine addresses questions that viewers may be having about The Killing and calls it "an impressive display of storytelling."
• RedEye lauds Michelle Forbes for her "shattering performance" as Mitch Larsen and talks to her about her love of "farcical and absurdist humor." (No Link)
• The Wrap says, of Joel Kinnaman's performance, that it's "all the more impressive when you see how little the character resembles Kinnaman."
• The Baltimore Sun compliments Agnieszka Holland, who directed Episode 6, "What You Have Left."
• A Wall Street Journal article about feature film directors taking TV jobs cites Patty Jenkins, who directed The Killing's pilot.
• Examiner.com appreciates The Killing's "ability to show us how one heinous crime can affect so many people," while the San Antonio Express-News says The Killing "manages, week after week, to exceed my already high expectations."
• The Buffalo News is hooked on The Killing and includes the drama in an "addict's guide" to May sweeps.
• TV Guide features the Suspect Tracker, describing it as "an online hub where fans can pick prime suspects and share theories after each episode." (No Link)
• For recaps and reviews of Episode 6, "What You Have Left," check out the The Atlantic, A.V. Club, Basket of Kisses, CNN, Crave Online, HitFix, Los Angeles Times, New York, Slate and TV Squad.
Read More