Uncategorized
Q&A – Kristin Lehman (Gwen Eaton)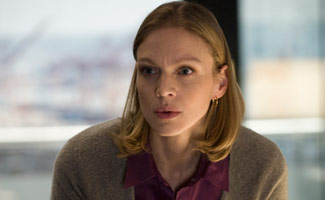 On The Killing, Kristin Lehman plays Gwen Eaton, the campaign advisor and lover of Seattle mayoral candidate Darren Richmond. Kristin spoke exclusively with AMCtv.com about how she got involved with the show, what it's like to film in her hometown of Vancouver, and how she once dreamed of being a professional dancer.
Q: How did you get involved with the show?
A: I'm represented by the same agent as Michelle Forbes, and he sent me the script and said, "This is what she's doing," because I keep up to date on what some of my favorite actors are up to. I read it, I wept, I closed it, and I said this is the best television writing I've ever read. I emailed my agent back and I said, "Oh, it's so sad," and he emailed me back, "Don't worry. They're still seeing people." I was like "No, I'm not talking about the role. [Laughs] I'm talking about the story."
Q: Have you personally ever had any political ambitions?
A: No. I ran for ninth grade class president. Came in a close second. [laughs] But at that stage it's about "who likes me?" which really isn't that much different than modern day politics. None of us were encouraged to run for student council because we knew what it was. It's more like, we need a new vending machine. There was no real understanding of how one could affect change.
Q: Did you do anything in particular to prepare for the role or to learn what it's really like to work on a campaign?
A: Eric Ladin and I were given really extensive research material from Veena Sud, which was really great. I read How to Rig an Election. Well, I read parts of it, I wouldn't necessarily quote me as saying I read the whole thing.
Q: Sounds like you're more honest than Gwen.
A: Oh yeah, one hundred percent. But this story is actually about human interpersonal dynamics. It was one thing to be given the source material, and I use it the way that I do other parts of her back story, but ultimately I'm not really doing that job. When I've played a doctor before, I had to work hard on "What would I really be doing? How do I hold the instruments?" I don't have to do any of that stuff on this show. I say the political words, but I don't actually do anything political. I can be saying to him, "Darren, this what you should do," but really what I'm saying is, "Darren, love me." [laughs]
Q: How does it feel to be back in Vancouver where you grew up?
A: It's great. I had my little boy, and I took three years off to have him and be a mom. Right around the time I was peeking my nose out again into the creative world, this came up. I get to stay in Canada where I'm from and raise my little boy where there's mountains and the ocean and my family.
Q: Any locations that brought back any specific memories from your childhood?
A: [At one point in the shoot], our home base for all of the trailers was right down the street from my very first boyfriend's house and from the ballet academy where I danced. That was intense, actually. Driving to work that day, I was following Eric Ladin, and I'm glad I was because it allowed me to zone out and just stare and reminisce. I would never have any reason to go there now, and suddenly I'm there right in front of a place where I came every day for nine years and ate, breathed, and slept only dance. And the trucks were parked in the lot of the park where I had my eighth birthday party. That was unexpected and kind of sentimental.
Q: How did you go from being a serious dancer to working as an actress?
A: I injured myself quite badly when I was seventeen. I broke my ankle, and it didn't heal in such a way that I could keep dancing at the level I wanted to. It wasn't like, "Oh my god, I'll never play the violin again." I could, but not at the level I wanted. So, I segued into acting, the other thing that was also meaningful to me. I do still sometimes have frustration over it because you have to wait to be hired and you have to wait for good words, whereas as a dancer you don't. But I'm romanticizing a career I didn't have.
Q: It has worked out for you. Maybe it was meant to be.
A: I think you're right. I spent years regretting it, and now I'm tired of that. I think I'm where I'm supposed to be.
Click here to read an interview with Eric Ladin, who plays Richmond campaign manager Jamie Wright.
Read More