Uncategorized
Q&A – Joel Kinnaman (Stephen Holder)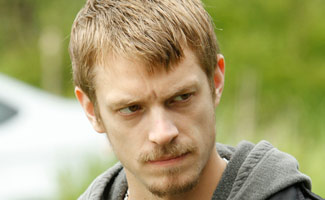 On the AMC original series,The Killing, Joel Kinnaman stars as Seattle police officer Stephen Holder, Sarah Linden's partner who was recently transferred to homicide from narcotics. Kinnaman spoke exclusively with AMCtv.com about his crush on a fellow cast member, Swedish women, and which city he'd most like to live in.
Q: How did you get involved with The Killing?
A: I got the script sent to me by my manager but I was in Sweden at the time, just home for a week to do the premiere party of Snabba Cash. When I finished reading the last page, I had tears in my eyes. That doesn't happen often when you're reading a script, especially not when you're reading it off your computer. I read every line and read it like a book. They were really anxious for me to put my stuff on tape because I didn't have the possibility to come back to do it right then. We sent it, and then they wanted me to come in and meet everybody and do the scenes again. Then they gave me the part.
Q: Did you model Holder's American accent on anyone in particular?
A: Not really. I wanted to give a sense that he had grown up with people from a diverse background. My father's actually American and I'm bilingual since birth so it's not as easy as working on different kinds of Swedish accents, not at all, but it's in that kind of a ball park. I spent a year in high school in the US too when I was seventeen.
Q: Are you and Mireille Enos as different from each other as your characters are on the show?
A: Yeah. I definitely think so. [Laughs] But we get along incredibly well. I've definitely got a working crush on her. She's a fantastic human being, and if not the best actress I've ever worked with, definitely up there. She's just focused on the work and a very selfless human being, which brings out the best in me. And I can make her laugh on screen and off screen and that's all I need. The note that we've been getting from every director is like, "Maybe you don't like each other that much okay?" Cause we just kind of want to stand and smile at each other and be kind to each other. [Laughs]
Q: Did you bond over having to share so many scenes in the rain?
A: The first time they put on those rain towers — it's towers above us with sprinklers of rain that just poor down on you viciously — we both kind of just looked at each other like, "Are they serious? What is going on here?" Cause after five seconds it's like jumping into a swimming pool. We were like, "Okay, I guess this is how it's going to be. It's going to be wet." It doesn't matter what you do after that. You'd have to change your underwear to get dry and you don't have time. So, it's just going to be one of those wet days.
Q: Holder says he hates nice weather and beaches and seems to prefer the rain. I'm guessing you don't share that sentiment.
A: That was a very specific thing of him to say. I wish he'd just take that back. I wish he'd tell Sarah, "Hey, this partnership works out really good. Let's go to Hawaii," and it's like The Killing: Hawaii. I really wish they'd write that in.
Q: Have you developed a taste for pork rinds from doing the show?
A: [Laughs] I hate pork rinds. I couldn't imagine how anybody would ever get the idea of taking skin from a pig and frying it and then trying to sell it to people. And then people actually buy it to eat it. That is the true sign of the decline of the human race.
Q: The scene between Holder and the two high school girls (in Episode 2, "The Cage") generated a lot of talk. Did you know that would be such a charged scene when you shot it?
A: When I read that, I thought it was such a cool and brave scene. I knew, oh, people are going to be so pissed off and really question if this guy is a good guy or not, because that's a really morally questionable thing. He shouldn't do that, even though it wasn't real weed, it's still, he shouldn't do that. But he saw that that was a psychological path he could take to get the girls on his side and make them want to give him some information. It's a bad choice to make, but that's what makes it so fun.
Q: What do you miss most about life in Sweden?
A: I miss my family, and I miss people, and I miss the Swedish women on the first day of spring cause they all just blossom in the most incredible way. But apart from that not so much, because it's just so warm and nice in LA. I really want to live in New York. That's the city of my dreams.
Click here to read an interview with Mireille Enos, who plays Holder's partner, Sarah Linden »
Read More