Games, Polls & Quizzes
How Would You Be Cast in a Crime Thriller? And What the Results Tell Us About You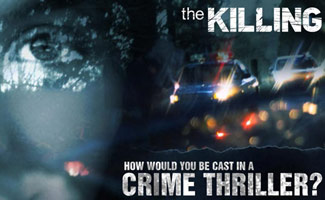 By now you've taken our How Would You Be Cast in a Crime Thriller? Quiz (and if not, what's stopping you?), a short online personality test that analyzes your behavior and determines what role you'd best be suited for if you auditioned for a part in a crime thriller like The Killing. AMCtv.com has pored over all of the results to date and compiled a group audition profile. Here's a summary:
1. The Lead Detective (Sarah Linden): 60.8 percent
2. The Victim's Parent (Stan and Mitch Larsen): 11.4 percent
3. The Victim (Rosie Larsen): 10.9 percent
4. The Chief of Police (Lt. Michael Oakes): 5.9 percent
5. The Shady Politician (Mayor Adams): 2.6 percent
6. The Best Friend (Sterling Fitch): 1.9 percent
7. The Victim's Love Interest (Jasper Ames): 1.8 percent
8. The Killer: 1.6 percent
9. The Partner (Stephen Holder): 1.3 percent
10. The Public Official (Darren Richmond) 0.4 percent
Not satisfied with your role, especially now that you know how much competition there is for the part? Then why not go ahead and take the quiz again.

Read More