Uncategorized
Q&A – Billy Campbell (Darren Richmond)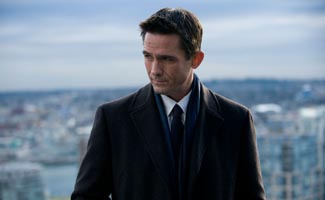 Billy Campbell plays mayoral candidate Darren Richmond in The Killing. In this exclusive interview with AMCtv.com, Campbell theorizes on which of his co-stars would make the best politician, describes shooting The Killing in his favorite city and shares how getting assassinated allowed him to spend a year at sea.
Q: Out of your fellow cast members, who do you think would make the best politician?
A: You know, maybe it's Eric [Ladin]. He has a gift for the gab for one, which is not a bad thing. I think it's Eric, definitely Eric.
Q: Do you think you would make a good politician in real life?
A: No, I would make a horrible politician, because I wouldn't enjoy my work.
Q: You also played a leader in the series The 4400. Are you drawn to leadership roles?
A: If you were to ask my agent they would confirm this: I'm drawn to locations. What really drew me to The 4400, aside from the fact that it was scifi, was the fact that it was shot in the city of my dreams: Vancouver. So it really wasn't about a leadership role, and neither was this. As far as I knew they didn't even want me for this. I auditioned for this a long time prior to getting the job, but I didn't meet the director or producers or Veena [Sud] during the process. Then months later my agent called up and said, "Remember the job you didn't get? They offered it to you." And I said, "Is the job shooting in Vancouver?" He said yes, and that's how it turned out.
Q: What makes Vancouver the city of your dreams?
A: Oh my goodness. I mean, it's beautiful, it's clean, it's a great place for a single person, it's a great place for a family person. It's a big city with plenty of excitement, but it's safe, it's got great schools, parks and sporting and hiking areas. There's a national park within 15 minutes of downtown. Stanley Park is right downtown — one of the most beautiful parks I've ever seen. It's an extremely bike-friendly place.
Q: You've had to shoot some basketball scenes this season. Do you play in real life?
A: No, I never really played in real life, but if you can dribble a ball and shoot it, you don't have to bone up. So I didn't have to practice.
Q: Are there any scenes you found particularly fun to shoot?
A: Honestly, all the scenes are fun. It's play-acting, it's always fun, whether it's long or short or what have you. It's like saying which part of the sandbox do you like playing in. I like all four corners and everything in between.
Q: Have there been scenes that were more challenging to shoot than others?
A: Yeah, the ones with lots of words are the most challenging, generally speaking. I'm not even being facetious. It sounds funny, but it's true.
Q: Eric Ladin mentioned that you like to sail. Are you still sailing?
A: I actually had to come off of a ship when the series got picked up. I'd been at sea for five months when we got picked up. When we're done, I'll go back to the ship for another two-and-a-half months. I would've been doing it for 14 months if the show hadn't been picked up.
Q: Is it easy to get a hold of you when you're on the boat, if your agent needs to contact you?
A: No. And I did this once before. I did it in 2005 to 2006 as I was doing The 4400. I left for a year. If you watch that show they assassinated me and then they brought me back to life. They signed me up as a recurring character, and I signed on the condition that I could go sailing for a year. They assassinated me so that I could go sailing for a year.
Click here to read an interview with Eric Ladin, who plays Richmond campaign manager Jamie Wright.
Read More