Uncategorized
Q&A – Annie Corley (Regi Darnell)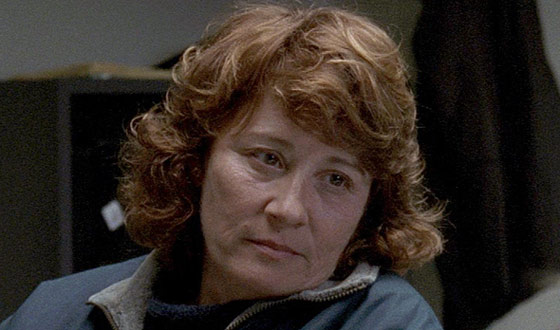 Annie Corley, who plays Regi Darnell — mother figure and occasional babysitter for Sarah Linden on The Killing — is no stranger to working on boats. She spoke with AMCtv.com about shooting in small spaces, spitting contests with her co-stars, and the joys of hassle-free hair, makeup, and wardrobe.
Q: Patty Jenkins directed the pilot episode, and you also worked with her on Monster. What was it like working with her again in such a different context?

A: I had an amazing time with her on Monster. We did a lot of work in a short amount of time and it sort of happened the same way with this. I ended up spending more time with her before in the prep stuff than during shooting.
Q: How did you come to be involved with the show?
A: Patty was gonna direct it and my friend Junie Lowry cast it. They thought this was a perfect role for me, so they sent it to my manager and I loved the part. I ride horses and work at a really big stable when I'm not doing the TV and movie stuff, so I loved the fact that she wears a baseball cap and lives on a boat and wears jeans and a sweatshirt. Usually you have to be careful about a tan and careful about the hair and the hands — my hands are sometimes a little gnarly from working with horses and dogs on a daily basis — but life and art overlapped.
Q: Your character lives on a boat. Are you comfortable on boats?
A: The crew isn't always as happy as the rest of us to be on a boat,
but I love being outside and being on the water. The only problem is
it's really rainy, so every time we shoot on the boat, it's like, "Oh
no, we gotta deal with the rain and tarps and the boat." I did one of
the Free Willy movies and we spent three months shooting on boats. I loved the boat.
Q: Does it ever get claustrophobic shooting in such an enclosed space?
A: The boat is perfect for me as the character living by herself,
but when Sarah and Jack kind of move in with me, it gets a little
cramped. Then if you add a whole camera crew and makeup and lights — I
don't get claustrophobic, but it gets very crowded.
Q: Regi becomes something of a surrogate mother to Jack, who's
played by Liam James. Since Liam is one of the few kids on set, did you develop a maternal rapport with him?
A: I keep trying, but he's got this amazing mother when he's on the
set. He's really fun. We crack up and do a lot of stuff together. I
surrogate him on the show but off the show he's a self-sufficient young
man.
Q: What kind of stuff did you do to crack each other up?
A: Patty in particular had him do some fun things. Like one point
during a scene with me, he's standing on a bridge that's over the water
at the docks. He gets to spit in the water, so I had to give him some
lessons on that: who can spit further, who can make the biggest
splash, who can make the grossest spit. Thirteen-year-old boy kind of
stuff.
Q: Who won?
A: He did. For such a little guy, I felt kind of intimidated.
Q: All of your scenes so far are with Mireille Enos. Do you guys ever hang out off the set?
A: Yeah, we've spent quite a few hours on that boat bobbing around
in the freezing cold. I sort of like to
encompass a little bit of real life before we begin working, so before
we start I'm grilling her about everything. "How are you and the
husband? What's happening with the baby? Let's talk about your
childhood."
Q: What's the hair, makeup and costume process like? How's it different from other sets you've been on?
A: We have a little joke about it, because I happen to have nice
hair. Of all the things in my life that I don't have, I was blessed with
really nice hair. So I get up, take a shower and do my hair. I get to
the set and Julie, my hair lady, we proceed to laugh about how nice it
looks and then she messes it up. Once she messes it up, we spray it so
it stays looking like a lady who lives on a boat. As far as clothes, I
get to pick out fun stuff to wear. I get to wear jeans and hiking boots
and big sweaters and big warm coats. I'm totally dressed for the weather
while everyone else is totally freezing.
Click here to read an interview with Mireille Enos, who plays Sarah Linden »
Read More