What You're Saying About Rosie's Room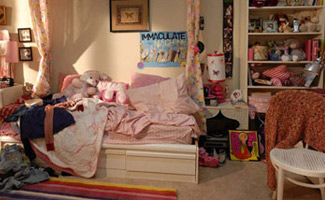 Rosie's Room offers fans of The Killing a chance to join the investigation into the murder of Rosie Larsen by clicking through a virtual simulation of Rosie's bedroom. Many of you have already played detective and posted your thoughts in The Killing Talk forum about items in the room that are potential clues. Here's what some of you had to say about what you found:
• "News article on Rosie's laptop – do the air traffic controllers who are planning a strike belong to a union that Richmond supports? Will it end up connecting to Rosie's death?"
– David G
• "The pictures on her computer showing her out at nightclub and at a fair show a lot of people we have not met… She is definitely hanging out with an older crowd." – OBXConsumer
• "I think the dead animal on the beach is a sea otter — I think. There was an article on Rosie's laptop about sea otters and Michael Ames owns a lot of waterfront property… Connection??? " – Diane901
Log onto the Talk forum to join a conversation or start a The Killing topic of your own, and as always, your comments throughout the blog are welcome. And don't miss your chance to play the detective — break out your search warrant and explore Rosie Larsen's bedroom now.
Read More