Press
TV Guide Cheers Joel Kinnaman and Profiles Mireille Enos; Kinnaman Talks to Slate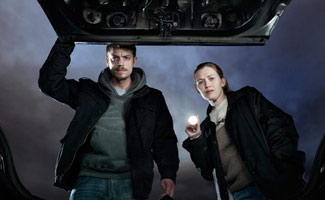 This week, Mireille Enos was profiled by TV Guide and spoke to E! Online and Entertainment Weekly, while Joel Kinnaman was cheered TV Guide and praised by Slate. Read on to learn more:
• TV Guide's "Arresting Beauty" feature on Mireille Enos calls the actress "superb" and "mesmerizing." (no link). Enos also spoke to E! Online about why she thinks she got the role of Sarah — "I think executive producer Veena Sud wanted somebody who didn't look like the idea of what a woman cop is" — as well as to Entertainment Weekly about Sarah's chances of walking down the aisle: "I don't think we can make any assumptions on this show about what's going to happen one way or another."
• TV Guide cheers Joel Kinnaman, who "routinely swipes scenes with his jittery charisma."
• Slate interviews Joel Kinnaman about his Swedish and American background and how he's able to give Stephen Holder that "delightfully sinister quality." He also wins praise from Slate's "Double X Gabfest" discussion (at the 27:12 mark), which calls him "a fascinating and fabulous actor."
• Michelle Forbes describes Mitch's situation to Metro as "so heightened, so emotionally affecting and so horrifying."
• Zap2it shares that "the tension on The Killing is starting to crank up, and we can't wait to see how it plays out."
• Canada's Postmedia News says, "Once the The Killing gets under your skin, it will haunt you." The Orlando Sentinel calls the show "the most satisfying series to arrive this spring." The Killing makes the Seattle Times' list of "What our writers love this week."
• The Orange County Register states simply that The Killing is "the best drama on TV at the moment." Hollywood.com agrees and lauds "how phenomenally well acted and written every single scene is."
• For recaps and reviews of Episode 5, "Super 8," check out the Atlantic, the A.V. Club, Basket of Kisses, CNN, Crave Online, HitFix, the Los Angeles Times, New York Magazine, Slate, TV Squad and the Wall Street Journal.
• Mireille Enos is set to play the wife of Brad Pitt's character in Paramount's adaptation of the Max Brooks zombie novel, World War Z, according to The Hollywood Reporter. Cinema Blend thinks "director Marc Forster clearly sees something he likes, and the studio clearly expects her to be a star." Deadline points out this "will be the first major-studio starring role for Enos." indieWIRE notes that "silver screen transitions don't come much bigger than co-starring with Brad Pitt."
• Mireille Enos talks to TVLine about winning her role in World War Z and calls Brad Pitt a "really lovely man."
• Joel Kinnaman will hit the big screen in the Universal thriller Safe House, which stars Denzel Washington and Ryan Reynolds, according to The Hollywood Reporter.
Read More