Press
Veena Sud and Mirelle Enos Talk to EW; Eric Ladin Chats with Collider.com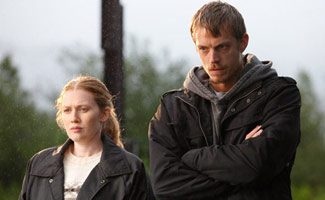 This week, both Veena Sud and Mireille Enos chatted with Entertainment Weekly, Eric Ladin talked extensively with Collider.com, and there were recaps and reviews galore for Episode 4, "A Soundless Echo." Read on to learn more:
• Veena Sud talks secrets to Entertainment Weekly: "How well do you ever really know anybody? You think you know your wife. You think you know your best friend. You think you know your child. But do you really?"
• Mireille Enos tells Entertainment Weekly that Sarah "prides herself in being in control of her world. And this case will definitely affect her life. She'll feel less and less in control of the events in her life."
• In an extensive interview with Collider.com, Eric Ladin says his grandmother has come closest to guessing the killer: "She threw a dart at the wall and actually was the closest of any of them. She's sharp. She's on it. She's watching very carefully." He also talks to AMCtv.com and name-checks the Suspect Tracker.
• Elle features a Q&A with Veena Sud and Mireille Enos and calls The Killing "AMC's gripping new drama." (No Link)
• The Internet Movie Database has an exclusive sneak peek at Episode 5, "Super 8."
• The Killing lands at No. 2 on The Hollywood Reporter's power rankings, after two weeks in the top spot: "Just a short tumble and nothing at all related to quality. The Killing still manages to be intense and riveting while taking its sweet time."
• The Atlantic discusses the five secrets revealed in Episode 4, "A Soundless Echo."
• For recaps and reviews of Episode 4, "A Soundless Echo," check out A.V. Club, Basket of Kisses, CNN, Crave Online, HitFix, Los Angeles Times, New York Magazine, Slate, TV Squad and The Wall Street Journal.
• Deadline Hollywood reports that The Killing drew a 19 percent increase in viewers in the 18-49 demographic, "a rare double-digit week-to-week increase for a heavily serialized drama."
• The Joplin (Mo.) Globe calls The Killing "a compelling mystery only three episodes in," while the Wisconsin State Journal calls it "taut and beautifully acted."
Read More