Uncategorized
Q&A – Mireille Enos (Sarah Linden)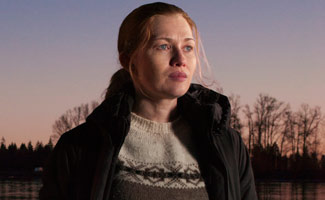 Mireille Enos stars as Sarah Linden, a homicide detective with the Seattle Police Department and the lead investigator in the case about the murder of Rosie Larsen. In an exclusive interview with AMCtv.com, Mireille discusses getting cast on The Killing and what she likes about mysteries.
Q: How did you come to get cast in the show?

A: I got sent the script for the pilot, I fell in love with it, and had two auditions within a week of each other, which seemed to go very well. Then it had been coming up on two months and I had erased everything from my computer and thrown away my sides and let go of it. I was pregnant and thinking, well, maybe that's that for this year. Then I got a call that they wanted to see me again. At that point we needed to tell them I was pregnant. They were really amazing about that, and they offered it to me.
Q: Did the fact that you've just recently become a mother make working on the subject matter more difficult?
A: There have been several moments, especially in scenes with Michelle, who is the mother in the series of the victim, where she's talking about her daughter and now I have a daughter… It's definitely given it more weight. I assumed it probably would, but I didn't know the specifics of how that would show up and it's been surprising. I'm supposed to be the stoic cop and I'm trying to keep all of my own big feelings back. It's been interesting trying to find the balance between Sarah's empathy and her ability to disconnect so that she can do her job.
Q: Did you do any research into the job of a crime detective?
A: On the set of the pilot, the man who was doing the still photography had been a homicide detective for years, so I picked his brain. It was really great, and he's such a sweet guy. Photography had always been his hobby to kind of balance out his cop life.
Q: Did he solve the case just from seeing you guys make the pilot?
A: [Laughs] He had it all worked out.
Q: Sarah is trying to prioritize her family life and her job. Is that something you can identify with?
A: I'm really lucky to be married to a perfect person. He's also an actor, and we just have been able to find the balance and work it out. He didn't have anything big going on, so when I got this job he said, "I'll just take some time and come up to Vancouver and be daddy." I'm sure that there will be a trade when he gets a big job and I'll take some time off.
Q: Are you just saying that because you're married to Alan Ruck and people might know who he is?
A: The part about him being perfect? [Laughs] No, he really is. He's golden.
Q: It seems, especially when he started out, that he did more comedy and you did more drama. Is that how you two are in real life?
A: Yes, in broad generalizations, people have said that I'm an old soul and he's always felt that he was younger than his years, but we both have all the opposites going on as well. It's really fun in terms of our work because we have different skills and we both admire each others skills so much. And he's been doing it for so long that he has so much perspective about how to balance career with the rest of your life.
Q: What's it like playing a character that doesn't say very much?
A: It allows me to be still on the set and it's really restful. There's been a few times where a scene wouldn't be working, and we found that usually if we pull words out it makes the scene work. Less is more. One of the directors said, "You've got a lot of stuff in silence in this episode. I hope that's ok?" I was like, "I love the silences." It's kind of my favorite part of this role — how much of this story is told just through Sarah thinking and letting the audience sit with her in her thoughts.
Q: Could you ever see yourself living in a place as rainy as Seattle?
No. [Laughs] Nope. I was talking to my sister who travels for work. She called me a couple weeks ago from Seattle and said, "I just want to say to you, because your show takes place in Seattle, that every time I land here I feel heartbroken, and I just think that's an interesting insight into what Sarah lives through everyday, living in Seattle."
Q: Did the rain in Vancouver, where you were shooting, affect your performance?
A: Absolutely. It's impossible to get comfortable. Sarah has so little comfort in her life — wet and cold and out on the street and long hours and too tired. Yet her identity is all wrapped up in how good she is at living life in those really difficult conditions. My sister and I used to laugh that as a family personality, my family that I grew up in, we really pride ourself on being able to do it the hard way. [Laughs] I think Sarah has some of that.
Q: Was make-up doing things to enhance the rainy look and your uncomfortable feeling?
A: [Laughs] Yeah, the wardrobe and hair ladies walk around with spray bottles and they get me wet between every take. Seriously.
Q: What do you like about this genre?
A: Everybody likes a whodunit, so it's satisfying working on projects that people are probably going to want to watch, and usually they're characters with strength. It's funny to me that this is the genre that keeps finding me. When I was doing theater for all those years in New York, I did a lot of classical theater, wearing big corsets and big dresses and doing dialects. It's interesting that once I moved to TV, I'm playing these scrappy, contemporary toughies. It's fun. I had this whole time period where I kept getting cast as the unlikely murderer — this sweet girl that you'd never suspect. My mother was like, "What is this?!"
Click here to read an interview with Joel Kinnaman, who plays Linden's partner, Stephen Holder »
Read More