Video
Video – The Cast Talks About The Killing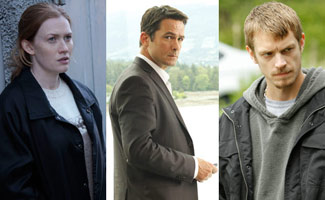 With the series premiere of The Killing only days away, it's not just viewers who are getting excited for the debut of AMC's latest original series — the cast is too. In a series of six videos, the cast shared their thoughts with AMC about a number of The Killing-related topics:
• One Day – The cast talks about The Killing's unique pacing, where every episode represents one day in the solving of the Rosie Larsen crime.
• Through the Prism of the Crime – The cast describes the different ways in which viewers will become engaged with the series.
• The Cast Shares Their Theories – Who killed Rosie Larsen? The cast shares their theories on The Killing's central question.
• Everyone Likes a Good Mystery – The cast shares their excitement about the surprises and twists that are keeping them glued to AMC's new original series.
• Depth of Character – The cast explains how the series' emphasis on the characters separates it from the typical crime show.
• Something About Rosie – Mireille Enos, the actress who portrays Detective Sarah Linden, describes what keeps her character invested in the Rosie Larsen case.
Haven't already caught them on the air? Don't worry — you can watch them right now on AMCtv.com. The Killing's 2 hour series premiere airs this Sun., Apr. 3 at 9PM | 8C.

Read More