Video
Video – Countdown to The Killing: AMC Looks at Infamous Unsolved Murder Cases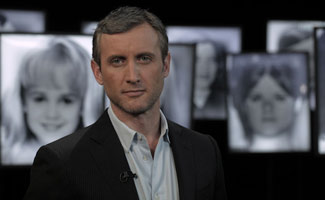 As part of the countdown to the 2 hour series premiere of The Killing, airing this Sun., Apr. 3 at 9PM | 8C, AMC has tapped legal analyst and author Dan Abrams to anchor a series of 3-5 minute documentary-style profiles of real-life murder mysteries that garnered national attention.
Throughout the profile vignettes, Abrams delves deep into the story of six unsolved crimes, focusing on the unfolding investigation and murder evidence, as well as the families involved and each crime's impact on the public psyche — themes that will be heavily explored in The Killing. Each vignette also features commentary from experts on the subject, including those who dealt specifically with each unsolved case.
The six unsolved crimes being explored are:
• The Zodiac Killer: The Zodiac Killer was a serial killer in Northern California who went on a murder spree in the late 1960's and early 1970's. He coined the name "Zodiac" in a series of taunting letters, which included cryptograms, which he sent to local press. There have been numerous suspects, but no conclusive evidence has been found.
• Jon Benet Ramsey: Jon Benet Ramsey was found murdered in 1996 at the age of six in the basement of her parents' home in Boulder, CO, eight hours after she was reported missing. Her family members were considered suspects, but have been legally exonerated as a result of DNA evidence. In 2009, the Boulder Police Department reopened the investigation.
• Marilyn Sheppard: Dr. Samuel Sheppard was convicted of the brutal murder of his pregnant wife Marilyn Sheppard in 1954. However, a decade later, his conviction was overturned. While the public seemed to still believe he was guilty of the crime, their son Sam Reese Sheppard, who was seven at the time of the murder, maintains his father was innocent.
• Natalee Holloway: Natalee Holloway disappeared at the age of 18 during a high school graduation trip to Aruba in 2005. Joran van der Sloot and brothers Deepak and Satish Kalpoe were suspects, but were all released due to lack of evidence. Her body still has not been found.
• The Alphabet Murders: The Alphabet Murders took place in the 1970s in Rochester, New York. The bodies of three young girls whose first and last names began with the same letters were each found in a town that started with the same letter as their name. While hundreds were questioned, the killer was never caught.
• The Black Dahlia: The Black Dahlia was the nickname given to Elizabeth Short, whose body was found in Los Angeles in 1947. The mystery surrounding her murder has been the subject of numerous books and films.
Haven't already caught all of the vignettes on the air? Not to worry — you can watch them all right now on AMCtv.com.

Read More