Press
EW Lauds The Killing's "Unexpected Power;" TV Guide "Can't Wait"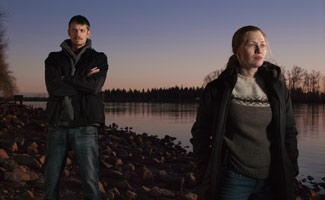 Previews and praise are piling up for The Killing, with publications including Entertainment Weekly, TV Guide, Men's Journal, Maxim, and GQ all recommending the show to their readers. Read on for details:
• Entertainment Weekly gives The Killing a B+, saying the series' "intensity builds steadily, giving the series unexpected power."
• TV Guide says of The Killing, "Nothing about this show is routine. Can't wait for others to see it."
• Men's Journal previews The Killing, remarking, "With this winner, AMC cements its reputation as the most creative network on TV" (no link).
• Maxim features The Killing in its TV Math, calling it "one of spring's most compelling (and freaky!) new series" (no link).
• GQ places The Killing at No. 7 on its April edition of The Punch List: "Yes, AMC has another great show The Killing" (no link).
• The Wall Street Journal points to The Killing as the latest example of the influence of Nordic noir on American entertainment.
• Beyond the whodunit aspect of The Killing, the Associated Press praises "the meditative way it takes stock of the living; the brooding, anxious way it tracks the ripple effects of a death on those left behind."
• The Vancouver Sun calls The Killing "a taut psychological study" and talks to series star Mireille Enos and series creator Veena Sud.
• Anticipating The Killing's premiere, the Orlando Sentinel says "The Killing looks like another winner from AMC, home of Mad Men, Breaking Bad and The Walking Dead." Metromix also has a preview.
• Fancast provides a primer for the viewers on the "characters you are going to be arguing about a month from now."
• Billy Campbell talks to the National Ledger about nearly not getting the part of Darren Richmond and how he almost went to circumnavigate the globe instead.
• Zap2it has a video interview with Michelle Forbes (who says her character is "about as far removed from Maryann Forester on True Blood as it's possible to get"), plus video of her appearance on the KTLA morning show.
• Daemon's TV interviews Brandon Jay McLaren, who shares that his character "has a massive, massive secret unbeknownst to everyone, including his wife."
• Cinema Blend highlights AMC's video cast interviews, noting, "As a fan of AMC's other original programming, I have high hopes for this one." The Futon Critic and Movie Jungle have the video interviews, too.
• Zimbio has photos of the cast arriving at the premiere of The Killing in Los Angeles earlier this week.
• SpoilerTV, Seriable and Shockya.com feature "Rosie's Room," an interactive feature that allows you to explore Rosie Larsen's room and learn more about her.
Read More