Press
Behind-the-Scenes Video at Yahoo; Cast Interviews at TV Squad, Digital Spy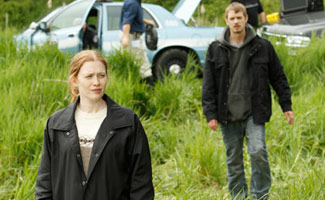 AMC's various video features appeared in several media outlets — with a behind-the-scenes look at Yahoo TV and interviews of Mireille Enos and Billy Campbell at TV Squad, Digital Spy and Zap2it.
• Yahoo TV featured an AMC behind-the-scenes video ("Turning the Crime Genre on its Head"), where Brent Sexton (Billy Larsen) remarks, "This show is different from other crime shows because it's simply the depth that we go into the grief of the family."
• TV Squad highlights AMC's video interview of Mireille Enos, who says of her character, Sarah Linden, "She works very hard at not being emotionally drawn in…"
• Digital Spy picks up AMC's video interview of Billy Campbell, who explains that his character, Darren Richmond, is an "idealist finding out that you can't get in the ring without, to some extent, liking the taste of blood." Zap2it has the video too.
• Pajiba, BSC and MovieWeb have AMC's video round-up of The Killing's main characters, with Pajiba noting, "The Killing looks to be a continuation of AMC's other great character dramas–Breaking Bad, The Walking Dead and Mad Men."
• Watch two promos for The Killing at Mean and Massive.
• Multichannel News includes the April 3 premiere of The Killing in its cable television spring round-up. (No Link)
• The Killing's writer/executive producer/showrunner Veena Sud will appear at the Banff World Media Festival in June, according to the festival website.
Read More