Press
The Daily Beast Calls The Killing "Breathtaking;" Showrunner Veena Sud Talks to Vancouver Sun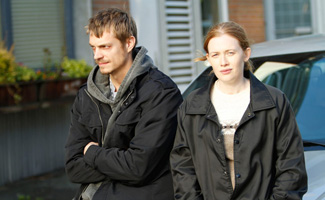 This week, numerous publications included The Killing on their must-watch 2011 television lists, and showrunner Veena Sud talked to The Vancouver Sun about shooting the show. Read on to see what the mediasphere is saying.
• In its mid-season television preview, The Daily Beast calls The Killing a "breathtaking exploration of the dark impulses of the human heart." The show is mentioned in a number of other television previews, including New York, Metromix.com, amNewYork, San Jose Mercury News and Examiner.com.
• The Vancouver Sun spoke with showrunner Veena Sud about shooting the Seattle-based series in Vancouver, Canada. "Vancouver and Seattle are very much like Copenhangen," she says. "Close to the top of the world, incredibly beautiful, dark, brooding skies."
• In its coverage of the Television Critics Association press tour, The A.V. Club thoughtfully assesses The Killing based on remarks made by Veena Sud. Mediaweek also covered The Killing's appearance on the tour, at which Sud addressed the pressure of "[riding] the coattails of Mad Men and Breaking Bad."
• In a preview of upcoming prestige projects, E! Online praises The Killing based on its "beautiful and brutal" trailer: "Murder is sometimes fetishized on popular crime shows, but this series appears to take a more sensitive approach." Zap2It.com reviewed the trailer, as well, declaring, "Those 22 seconds sure are pretty."
• GoldDerby.com speculates that The Killing could be another awards magnet for AMC: "It's still early days yet, but mark this one on your calendar."
• HitFix.com and TVbytheNumbers announced the show's April 3 premiere date.
• AllYourTV.com snapped a series of photos of The Killing star Billy Campbell at a Television Critics Association panel.
Read More