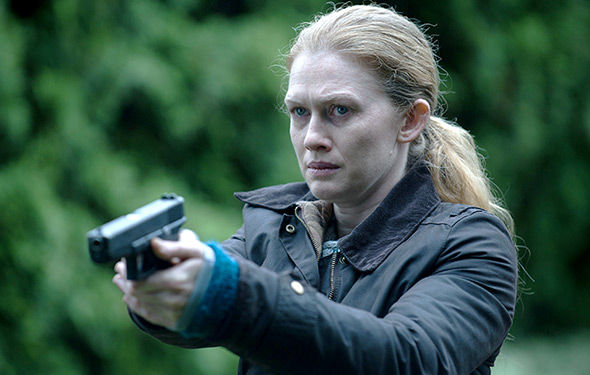 The Road to Hamelin, Episode 12
The Road to Hamelin
Sarah places her life on the line after someone dear to her suddenly goes missing. Meanwhile, Holder's past is used against him.
Show Full Recap
Full Recap
Linden and Holder head to Adrian's house to check on him. They search the house with his foster mother and discover Adrian is gone.
Skinner picks up his daughter, Bethany, from ballet class. She confronts him about his relationship with Linden. Skinner tries to comfort her but is interrupted by a phone call informing him that Adrian is missing.
At Adrian's house, Linden and Holder update Skinner on their theory that Reddick may be the killer. Holder offers to find Reddick. Skinner tells them to search for Adrian while he tracks down Reddick.
A neighbor informs Linden and Holder that she drove Adrian home after he stopped by her house. She says he was scared that someone was following him.
As they head back to the station, Linden says the D.O.T. is sending footage from traffic cameras between Adrian's school and his house. Holder mentions that Reddick drives a gray car.
At the station, two internal affairs officers stop Holder and take him in for questioning. Linden tells Holder she'll have Skinner arrange for his release.
Linden leaves Skinner a voicemail, asking to help clear Holder. An officer brings her traffic cam photos that show Adrian being trailed by a gray car. He also mentions that Skinner stopped by the station but left in a hurry.
The internal affairs officers tell Holder they received a report that Holder has been harassing Reddick's family.
Linden enters Skinner's home and finds him packing a suitcase. She tells him she's been calling then shows him the traffic cam photos. Skinner is disheveled and says her case against Reddick is weak. He then apologizes and blames his behavior on his marital problems, saying his wife wants him to leave the house immediately.
Skinner and Linden walk downstairs just as Skinner's wife and daughter arrive. Bethany hugs Skinner and says good-bye. Linden stares at Bethany's hand: She's wearing Kallie's blue ring.
Linden follows Skinner to his car in a fog, her head spinning. Skinner realizes she just figured it out: He's the killer. She points her gun at him and gets out her cuffs. Skinner says she must come with him or Adrian will die. She directs Skinner into the car at gunpoint. They drive off.
Holder tells internal affairs that Reddick has been feeding them lies. Then he learns it was Skinner, not Reddick, who filed the complaint. Desperate to get out of I.A. and look for Skinner, Holder says he planted a bomb in Reddick's car that will explode in 35 minutes.
Reddick bursts into internal affairs to tell them the bomb story is a lie. He yells at them to release Holder.
In the hallway, Reddick punches Holder for scaring his family with the bomb threat. Holder says it was his only way out, then tells Reddick to find Adrian. Holder leaves to go after Skinner.
Linden's phone rings. Skinner tells her not to take Holder's call if she wants Adrian to live.
Holder visits the Skinner household and learns that Skinner left with Linden 20 minutes earlier. Suspecting Skinner may go to his lake house, Holder gets the address from Skinner's wife.
Skinner tells Linden they've both been alone for too long and that he wanted to change and be with her. "You and I are nothing alike," she says.
Holder consults a map as he drives and leaves another message for Linden.
Skinner tells Linden about the first murder, saying he didn't plan it but that afterwards there was "nothing like it." He says he picked victims who were "human garbage" and that he was saving them from their inevitable end. Linden calls him a monster.
Reddick calls Holder from Adrian's house to say he found a paper that Adrian wrote for school. "If my dad does die, I wanna be with my mom," he reads.
Skinner tells Linden he kidnapped Adrian because Adrian was starting to remember details from Trisha's murder. He responds to Linden's disgust by reminding her that she loved him. "Because I didn't know you," she insists. "You knew something," he says. "That's why you ended up in the hospital." She hits him and jumps out of the car to vomit.
Holder arrives at a fork in the road, consults his map, and bears right.
Skinner stops the car. Linden asks if Kallie Leeds' body is in the lake and if there are more victims there. "And other places," Skinner says. "No one will ever find them."
Holder parks at the lake house and kicks the door open. No one is there.
Linden asks Skinner where Adrian is. "He's in the trunk," Skinner says.
Reddick goes to Trisha Seward's grave and finds Adrian hiding behind a nearby headstone. He phones Holder to let him know.
As Linden demands the keys to the trunk, Skinner tells her that he lied, that he did kill Adrian. Enraged, Linden shoots him in the chest.
Holder hears the gunshot and finds them, telling Linden that Adrian is alive. He urges Linden to lower her gun but Skinner begs her to shoot him. "It's got to be you," he says. "You loved me." Linden shoots Skinner again, killing him.