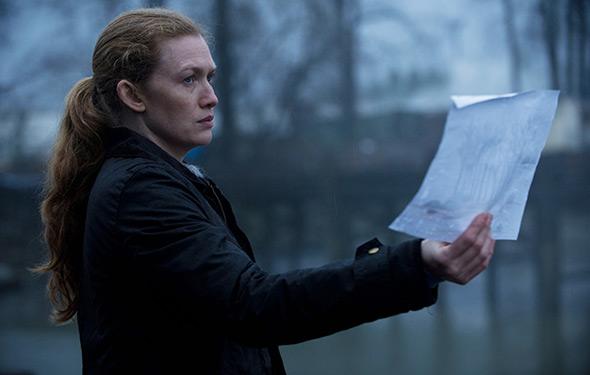 That You Fear the Most, Episode 2
That You Fear the Most
Sarah's past leads her to a grim discovery.
Show Full Recap
Full Recap
Linden visits the abandoned factory where Ashley Kwon's body was found.
Later that night, Linden drops by police headquarters to return Ashley's file to Holder. She reluctantly discusses the case with him and suggests that the murder isn't the killer's first. Holder notes the killer took Ashley's rings and broke her finger in the process, then asks if Seward took "trophies" as well. Linden says no but seems to be withholding information. She wishes Holder luck on the case.
Anxious about Kallie's whereabouts, Bullet leaves her a voicemail. She then visits Danette at her trailer and learns that Kallie didn't sleep there the previous night.
In a room at an abandoned hotel, Twitch talks about his dreams of going to Hollywood and meeting lots of girls. Lyric suggests they spend her $60 savings on dinner and a movie.
At police headquarters, Reddick shows Holder a photo of Jablonski in the newspaper. Reddick notes Jablonski scored an easy murder case that could have been theirs had Holder passed off the Kwon case. Holder suggests they visit the Beacon Home for Teens for leads and mentions his chat with Linden. Reddick tells Holder that Linden is bad news.
In the lobby, Holder sees Bullet giving Kallie's name to the desk sergeant. Bullet asks Holder if he's seen Kallie and shows him a picture of Kallie on her phone. The desk sergeant tells Bullet that they have no reports on Kallie.
Seward demands to make a phone call. Evan Henderson, a prison guard, says calls are only permitted after yard time. Seward persuades Henderson by saying he wants to call his lawyer about arrangements to see his son.
Linden visits her old partner, James Skinner, to discuss the Seward case. She says Trisha Seward's finger was broken postmortem and her wedding ring was never found. Skinner reassures Linden that Ray Seward is guilty, then mentions that Seward invited him to his execution.
When Linden returns to her car, James' wife Mary follows her out and tells her to stay away. "I've forgiven him, but I don't ever want to see you again," she says.
On a ferry, Cody tries to comfort Linden. "You don't know me," she says, ending their relationship. "I break things."
Holder and Reddick question Pastor Mike at the Beacon Home for Teens, the shelter he runs. Holder notices a tattoo, "Ephesians 1:7," on Pastor Mike's arm. The pastor says he last saw Ashley five days ago and mentions that kids sometimes stay at the 7 Star Motel.
Twitch urinates in a cup for his parole officer and announces his plans to model and act in Hollywood once his probation is up.
At The Jungle, Lyric tells a friend that Twitch is taking her to California. Bullet asks some kids if they've seen Kallie, and starts a fight with Goldie, a pimp who jokes that Kallie is dead. Goldie pulls a gun but doesn't fire.
At the prison, Becker dresses down Henderson for allowing Seward to make a phone call -- to a cop, no less. Becker then goes to Seward's cell and starts reading a description from the execution manual of what happens to a body when it's hanged. Seward slyly mentions that he knows a relative of Becker's who is a guard at another prison. Becker continues reading. Seward smiles.
Holder and Reddick visit the 7 Star Motel and show Mama Dips, the desk clerk, a printout of photos of kids who stay at Beacon Home. Pointing out Ashley, Holder claims a witness saw her at the motel two nights ago. The clerk doesn't recognize Ashley, then blames Kallie, who is also on the printout, for spreading misinformation.
Outside, Holder remembers that Bullet was looking for Kallie. He suggests they talk to some girls on the street. Reddick refuses.
Regi finds Linden studying the Seward case file at home. Linden shows Regi the "Picasso drawing" of a grove of trees drawn by Seward's son, Adrian. Regi warns Linden against disrupting the child's life.
Linden visits Seward, who tells her Skinner "lied in court and called me a coward." When Linden asks what Seward did with his wife's wedding ring, he claims he sold it to a pawn shop. When she shows him Adrian's drawing, he clams up.
A new death row inmate, Alton, recognizes Seward and begs him for tips to prove his innocence. Seward stares out his window.
Holder arrives at his girlfriend Caroline's apartment. She reveals she's bought him an electric toothbrush and jokes that she's gradually guiding him toward marriage. He jokes back and they kiss.
At the abandoned hotel, Lyric grows angry with Twitch for spending all of her money on hair dye, which he's using to prep for his dream life in Hollywood. Lyric reluctantly forgives him, then offers to work more. Bullet bursts into the room and asks Lyric if she's seen Kallie. Twitch mentions that Goldie has a new girl in his apartment.
Bullet breaks into Goldie's apartment and hears a woman crying behind a locked door. Goldie sneaks up behind Bullet with a knife, forces her into his bedroom, and rapes her.
Linden visits Adrian's foster home and sees him happily playing in the backyard. She notices a drawing on his bedroom wall that's identical to the "Picasso drawing" in the Seward case file except for one thing: The drawing includes buildings next to the grove of trees. Sarah recognizes the buildings as the abandoned factory where Ashley Kwon's body was found.
Linden returns to the abandoned factory with Adrian's new sketch. She matches the trees from the drawing with a nearby grove, then makes her way through the trees and discovers a pond littered with corpses rotting in biohazard bags.